- Top 5 Classic and Popular Brands -
As the new year begins, we find ourselves already counting down the months. Since the emergence of COVID-19, time seems to have been lost in a way, but the clock never stops ticking. While we hesitate to go outside in the warmth of our living rooms, the hands of the clock cruelly advance, forcing us to anticipate and adapt to future changes. The escalation of anxiety is, in a way, accelerating.
Paradoxically, this leads to a growing affection for classics—timeless and universal. They remain unaffected by the times, shining calmly when the opportunity arises. Such clothing, resembling an ideal way of life, is indeed rare. Wearing them is a source of pride, and their uniqueness liberates us from external pressures. Embrace change while not fearing the things that remain unchanged. Do not lose sight of yourself.
Now, let's delve deep into a timeless masterpiece that strongly influences us—the "Eternal Americana." The first installment of this series features the "Stadium Jacket." Let's explore its essence and origins.
Born as a symbol of honor, the Stadium Jacket became rooted in culture. To truly understand the charm of an item, you must first discern its essence. Let's start with the roots of the "Stadium Jacket." It is commonly abbreviated as "Sta-jan," but its precise name should be "STADIUM JUMPER."
However, this is a case of Wasei-Eigo (Japanese-made English), and unfortunately, it deviates from the original meaning of "jumper for stadiums." In the United States, the birthplace of the jacket, it is referred to as the "VARSITY JACKET," "AWARD JACKET," or "LETTERMAN JACKET" and sometimes "LETTERED JACKET."
"Varsity" signifies a "representative team (such as a university's)," "Award" means "to give or grant (a prize, scholarship, etc.)" or "a prize or scholarship" itself, and "Letter" represents the "initial letter of a school name." In other words, the Stadium Jacket is not just an indicator of where it's worn; originally, it was a badge of honor awarded to a select elite representing their alma mater.
It is said to have originated from the late 19th-century uniforms of Harvard University's prestigious baseball team, representing America's leading institution. Later, it gained popularity among players from the "Ivy League," a group of eight private universities on the East Coast. By the 1930s, it had become a classic, featuring a wool body, leather sleeves, snap-button front, and wool ribbing at the collar, cuffs, and hem.
Accompanied by the initial "H" of Harvard and other details like the university's founding year, these jackets are a symbol of pride.
At first glance, the "Stadium Jacket," a symbol of honor, is not exclusive to baseball. The Stadium Jacket gradually found its way into various sports such as basketball, American football, and more, increasing its influence. When items featuring pro team logos started circulating, the number of fans wearing them to support their teams at stadiums also grew. The background of this era, when this fashion was imported to Japan, is one of the reasons behind the name "Stadium Jacket."
In Japan, Stadium Jackets have been around since the 1960s, and they experienced a boom in the 1980s, becoming a representative item of the so-called "Ame-kaji" (American casual) style. Now, as we move into the 2020s, the revival of 80s and 90s culture is gaining momentum.
Let's delve into the archives of five essential brands to understand Stadium Jackets better.
Popular Brands of Stadium Jackets - #1
BUTWIN: An established brand that laid the foundation for today's design codes.
The top pick for understanding Stadium Jackets is BUTWIN. Established in 1938 in Minneapolis, Minnesota, this long-standing brand is known for the original Stadium Jacket with a Melton wool body and leather sleeves. While they continue releasing items under the brand name RENNOC, vintage pieces from the mid-20th century are highly valued. Each decade brought changes in tag design, adding to the excitement for fans.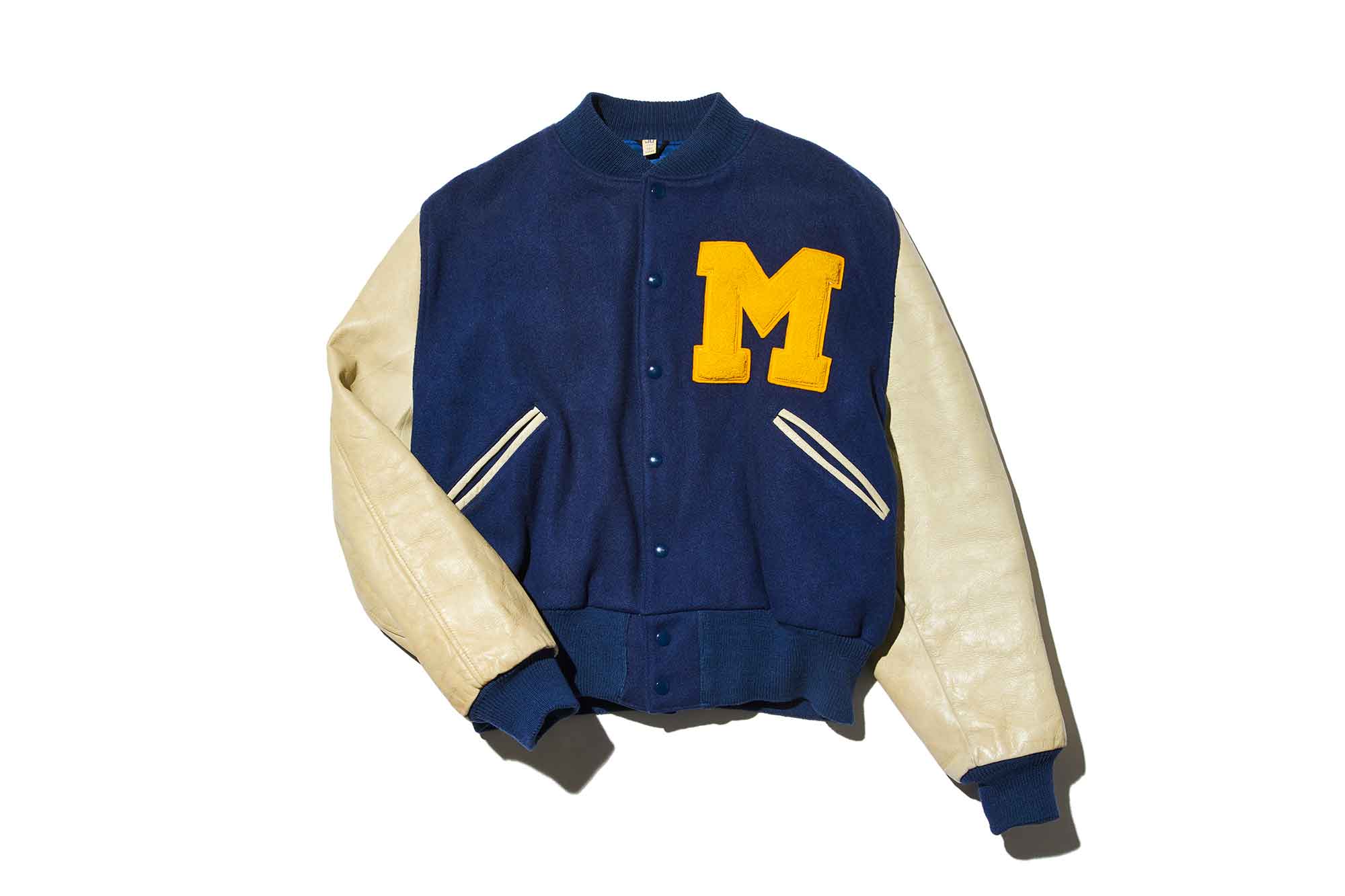 The model we are introducing this time features a tag that dates back to the 1960s. The navy melton body exudes sincerity and elegance, with a sturdy strength. As expected, on the left chest, three-dimensional alphabet letters proudly grace the jacket.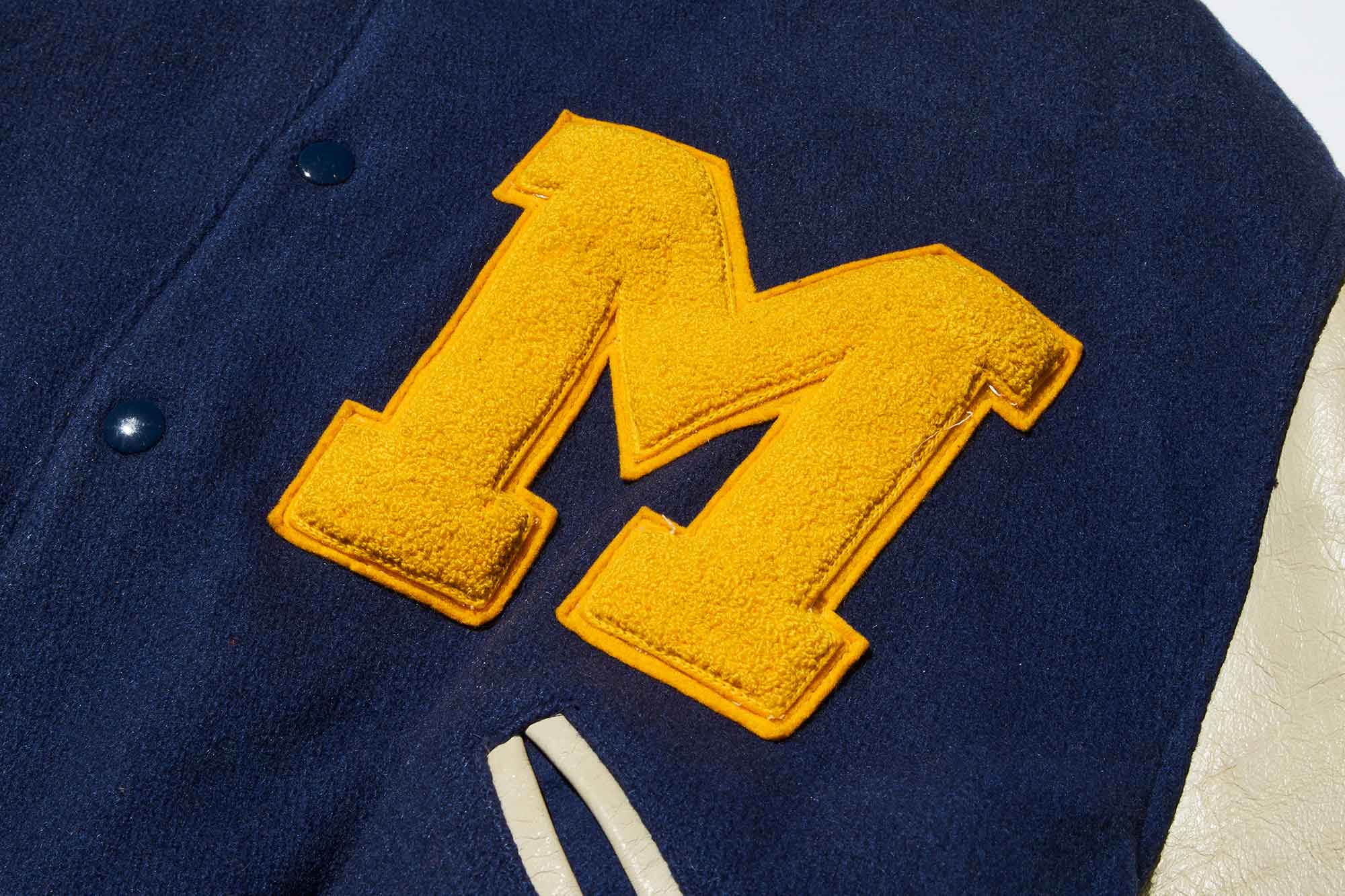 In contrast to the navy body, there's a yellow chenille patch. This three-dimensional design is also known as "Sagara" embroidery in Japan.
This embellishment, inseparable from Stadium Jackets, is called a chenille (chenille) patch, derived from the French word for "caterpillar." The pile-like embroidery on felt fabric is cute and full of presence. Originally, it was an outerwear piece for student uniforms aspiring to become stars, which suggests a transformation from caterpillar to a splendid butterfly.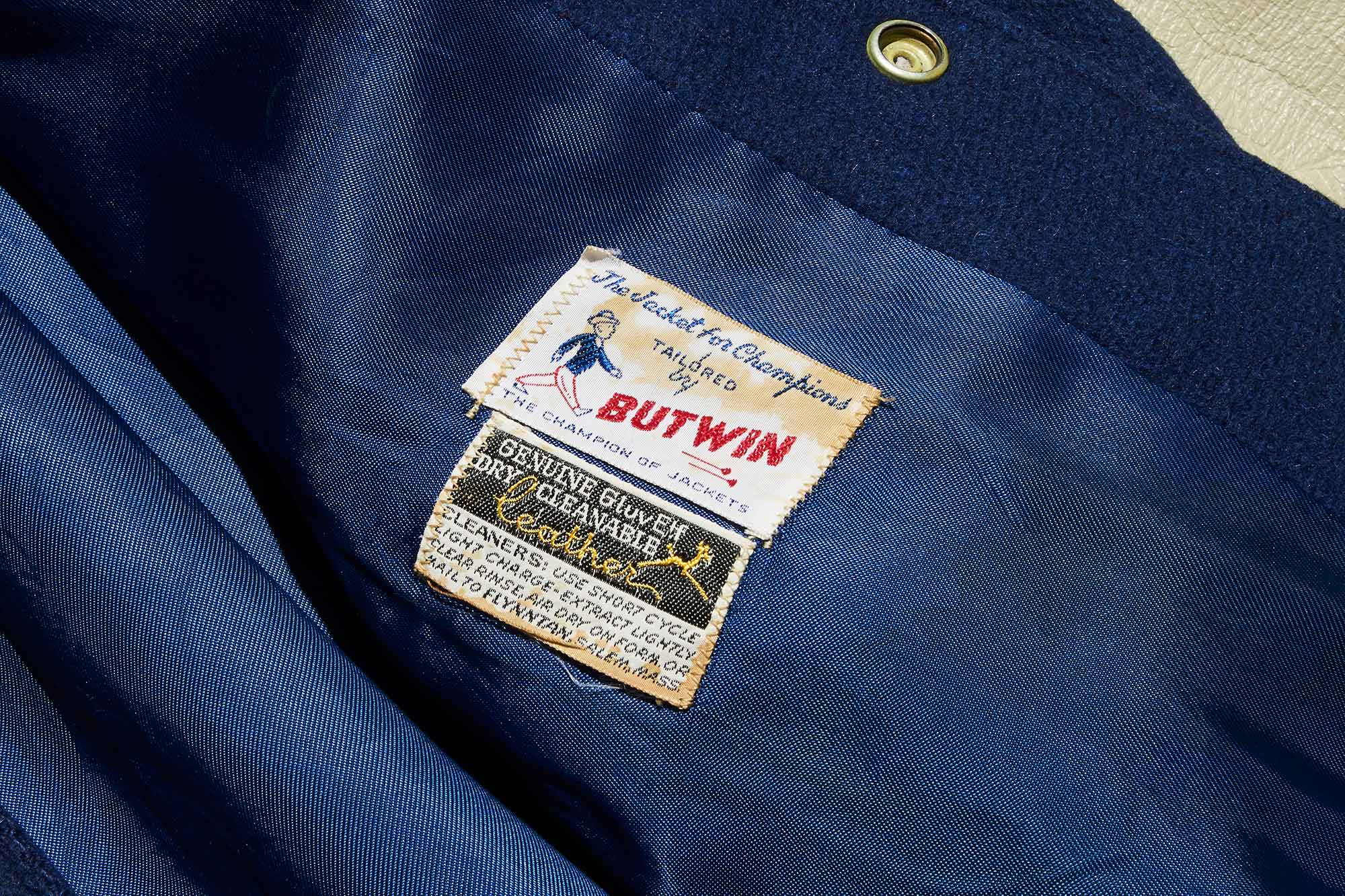 From the design of the tag, it is presumed that this Stadium Jacket was made in the 1960s.
By the way, the earliest Stadium Jackets, known as Varsity Jackets, had relatively understated embellishments through patches. They were considered solemn items in the Ivy League of the East Coast. The flashy designs on sleeves and elsewhere became more prevalent, primarily on the West Coast, from the 1970s onward.
Popular Brands of Stadium Jackets - #2

DeLONG: A leading sports apparel company that gained prominence on the West Coast.
Founded in 1856, DeLONG is one of America's premier sports apparel companies, established at a time when the Crimean War ended and the Tokugawa Shogunate still existed in Japan. While it faced bankruptcy in 2009, it remains active today through mergers and consolidations with other companies. Originally founded in Iowa, it has since moved its manufacturing operations to the Dominican Republic.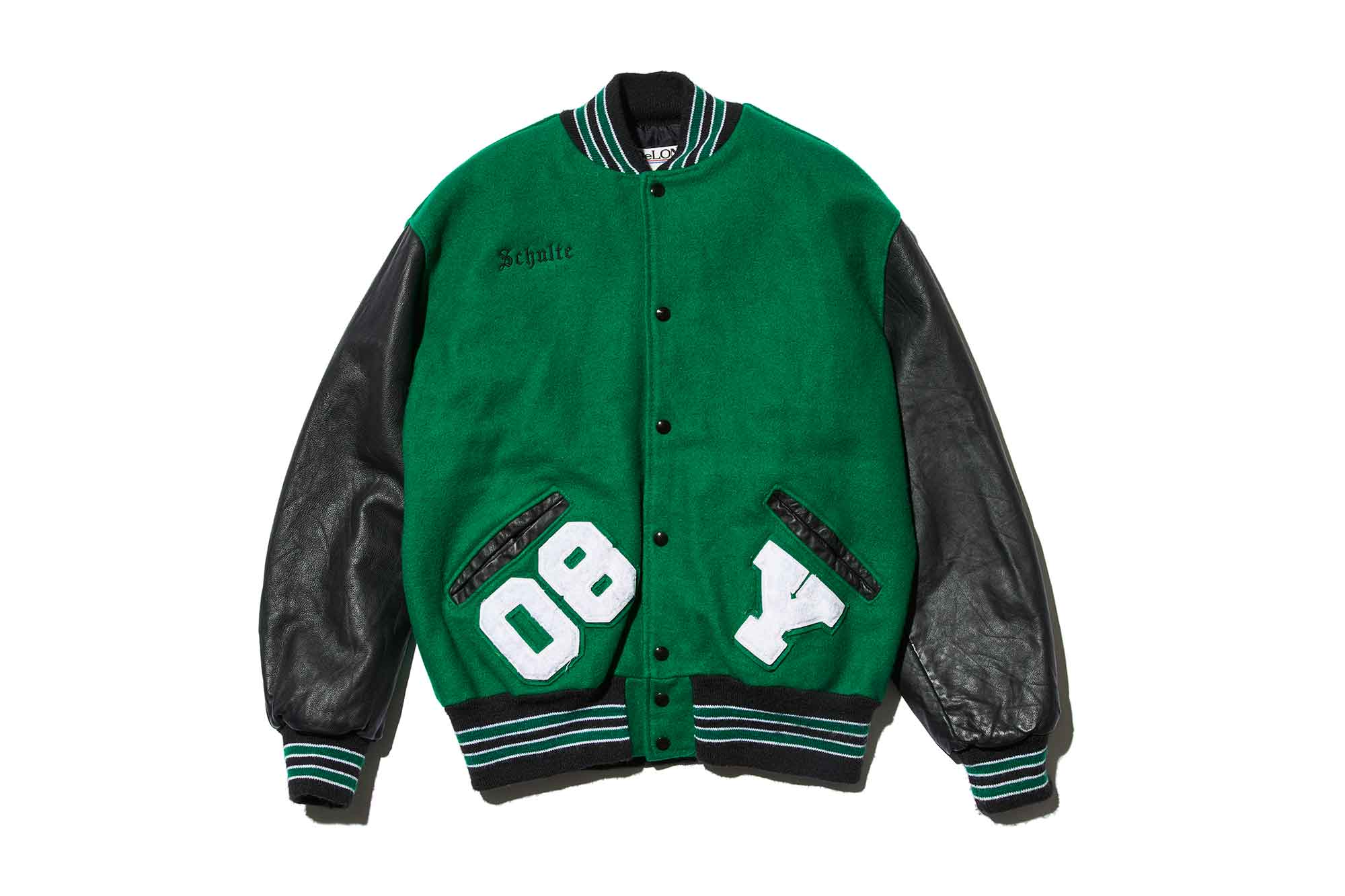 DeLONG's Stadium Jacket is tough yet lightweight, adorned with bold patches on the back.
With a manufacturing history of over 70 years, DeLONG prides itself on exceptional quality. These jackets possess toughness while being surprisingly lightweight. Their comfortable fit sets them apart from others, gaining immense trust not only from North American high schools and universities for school orders but also from numerous professional teams in MLB, NBA, NHL, and NFL.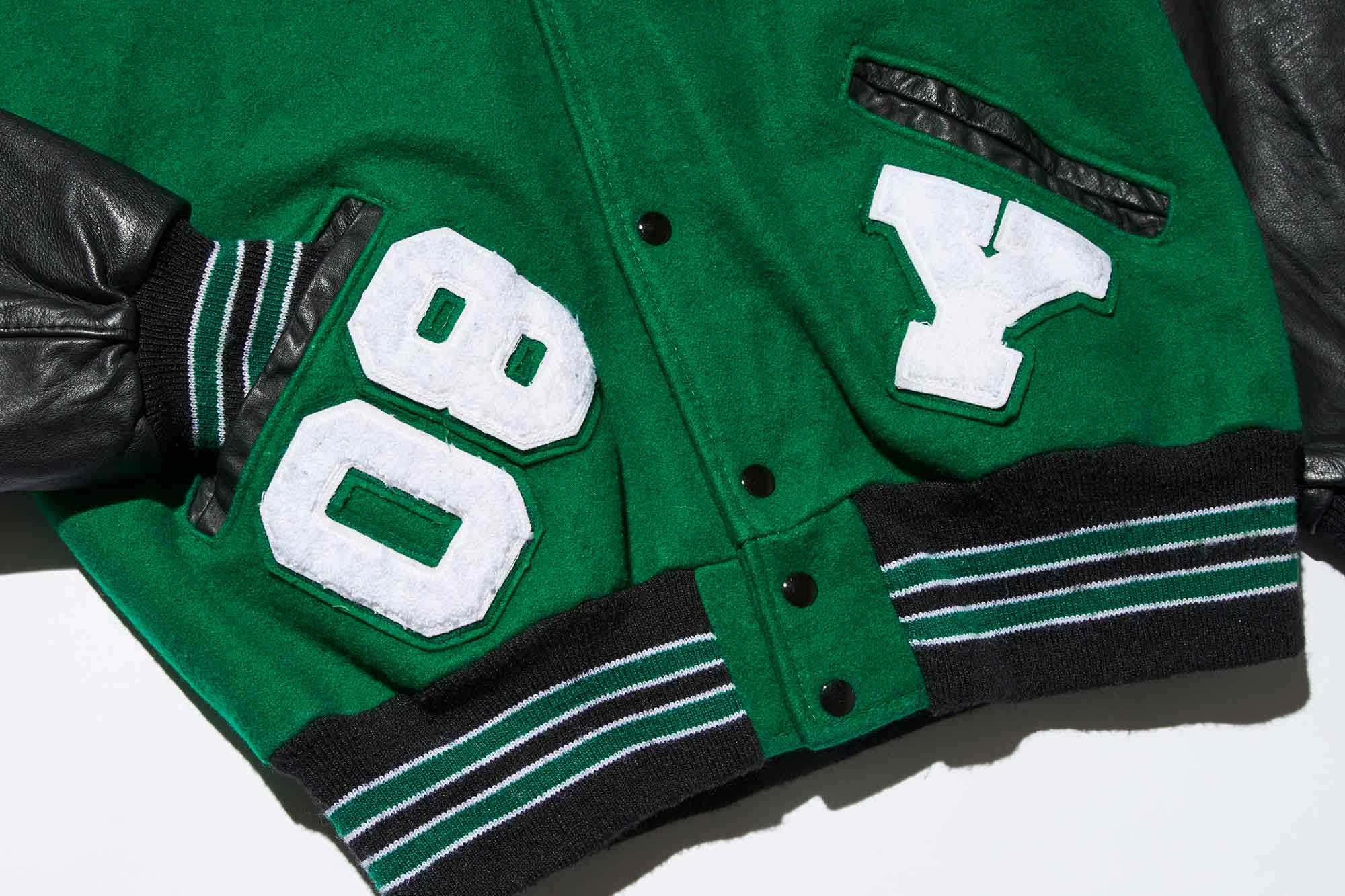 The piece we're featuring here is presumed to be from the 1990s. Its green melton body and black leather sleeves create a rugged image. The familiar chenille patch is placed not on the chest but on the hand warmer pocket, adding a playful and stylish accent with its white color and slightly tilted design.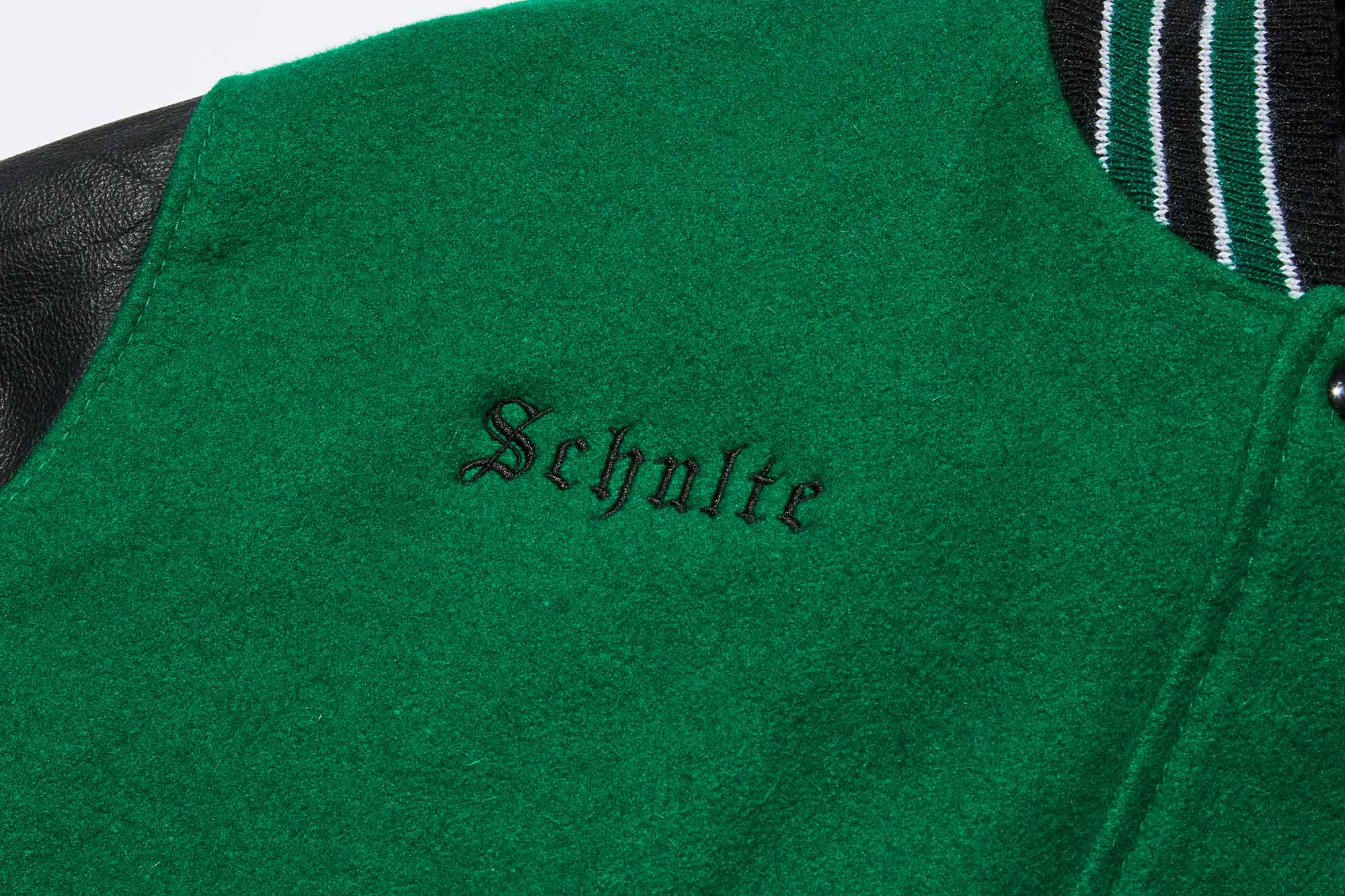 There is also subtle embroidery on the right chest. It could resemble a Germanic-sounding name.
There's also a bold chenille patch on the back, and from that, it can be inferred that it was a piece intended for the wrestling team at "York Community High School." On the right chest, there is embroidery that could be interpreted as a person's name, "Schulte." This kind of overanalyzing one's origins is one of the unique pleasures of vintage items.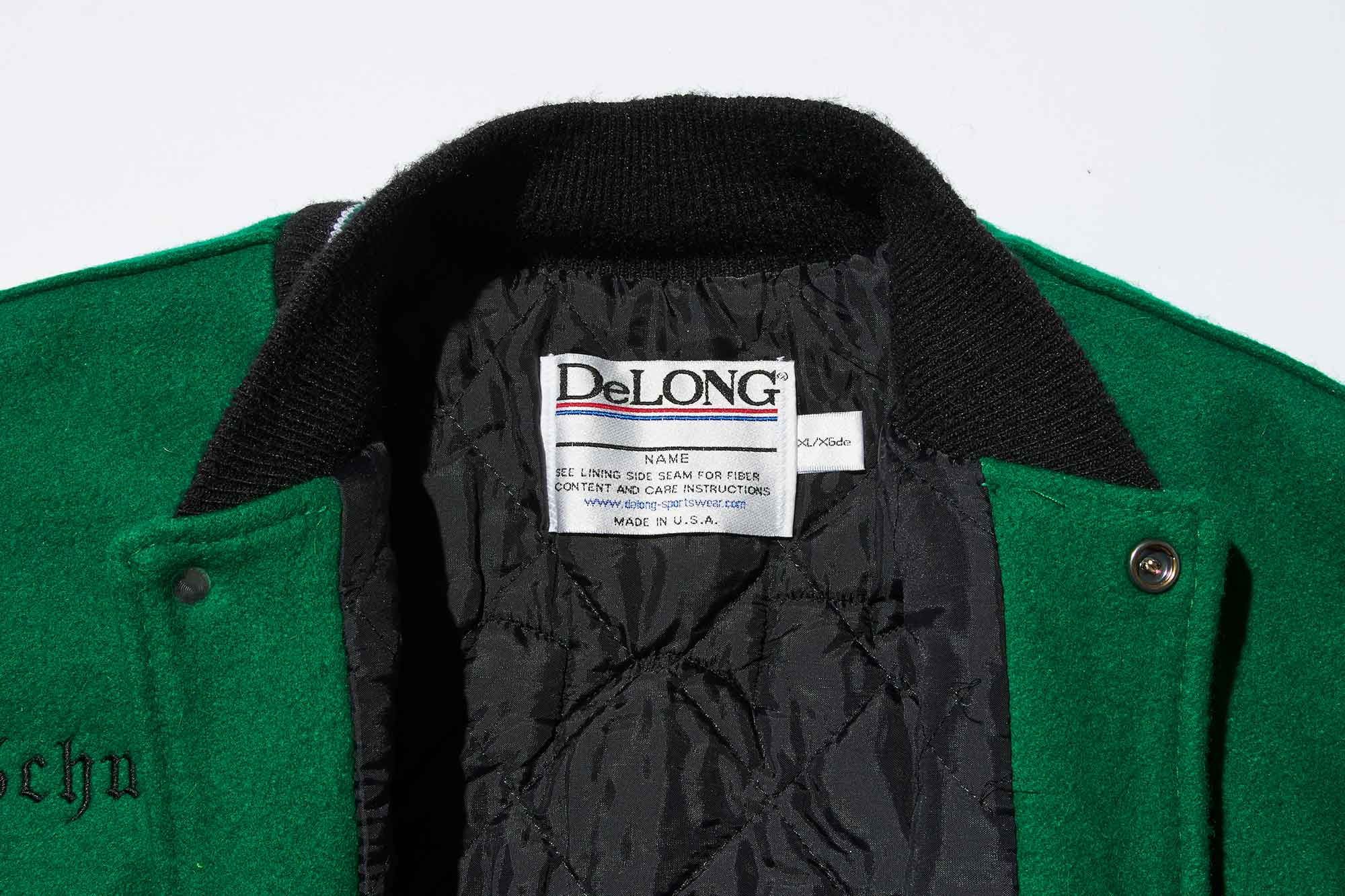 On the tag, you'll find the brand logo written in an authentic typeface.
While we mentioned in the previous section that flashy embellished Stadium Jackets were typically associated with the West Coast, it's worth noting that many of them were manufactured by DeLONG, a company hailing from the American Midwest, specifically Iowa. Truly a historic and prominent name in the industry.
Popular Brands of Stadium Jackets - #3
SKOOKUM - A brand with a modern, smart, and rude mood that aligns with modern fashion.
The next brand, SKOOKUM, started in 1939, a year before BUTWIN, and is considered a prestigious name among Stadium Jacket enthusiasts.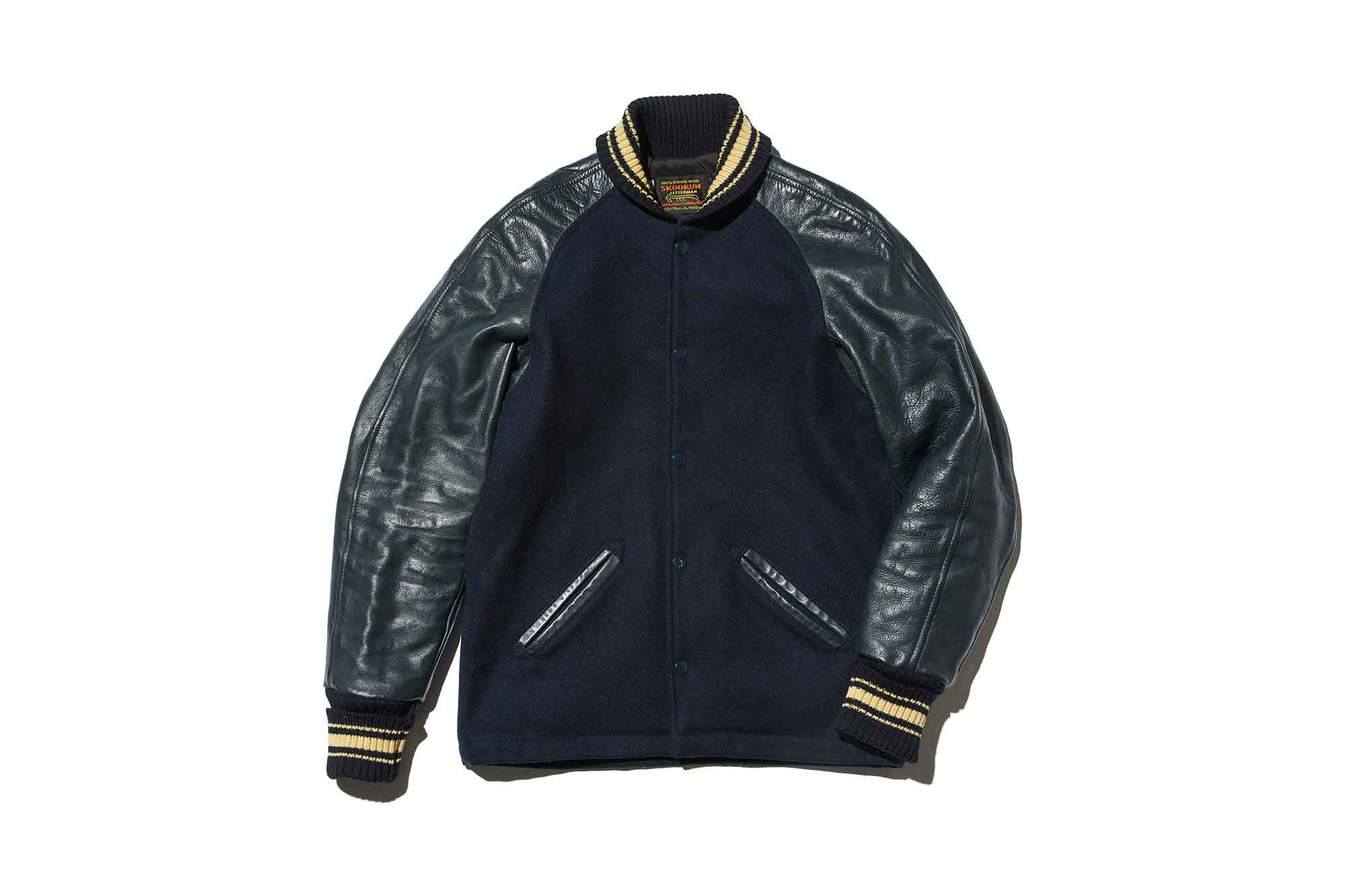 In Japan, it's known as the Pharaoh jacket, but in the United States, it's generally recognized as a car coat from SKOOKUM.
The brand name SKOOKUM originates from an Indigenous American language, signifying "ultimate" or "peerless." The name reflects the quality and lives up to its reputation. Even in this version with stripped-down decorations like the chenille patches, it still carries a unique aura.
The essential elements of a stadium jacket, the shawl collar and raglan sleeves.
This type, known as the "Pharaoh jacket" in Japan, exudes a rebellious aura with its black and gold color scheme. And for a good reason, the jacket is reminiscent of the type worn by the delinquent boys in the 1973 film "American Graffiti," directed by George Lucas. The naming of this jacket type is derived from their gang in the movie, the "Pharaohs."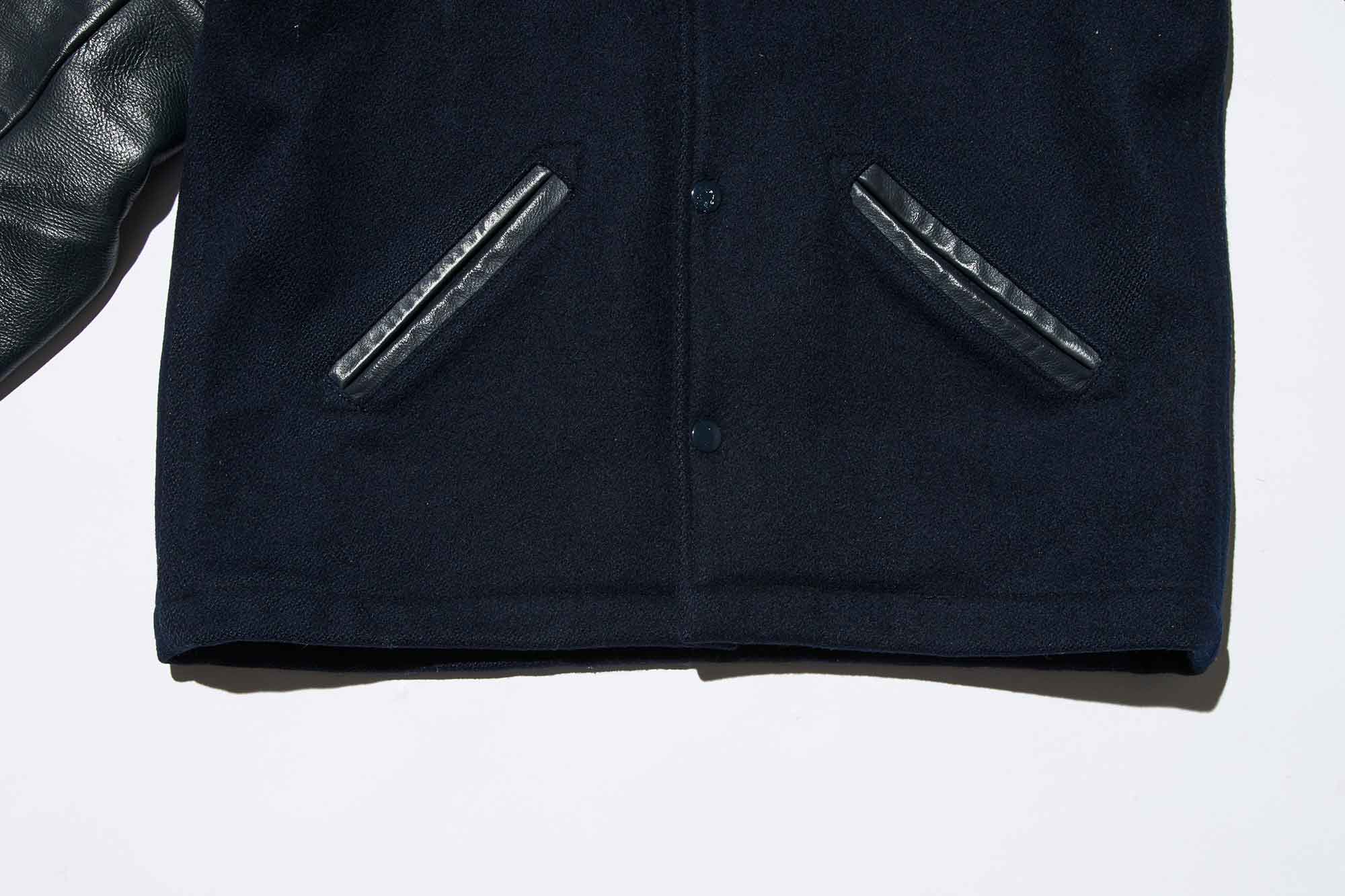 The longer length lacks ribbing, giving it a clean and sleek impression.
While it retains the rib-knit shawl collar and raglan sleeves, the design diverges from the conventional style of a stadium jacket. There is no ribbing at the hem, and the length falls in the middle to long range. During the 1960s when it was the setting for "American Graffiti," cars didn't have air conditioning, and this jacket was favored for warmth, earning it the nickname "car coat."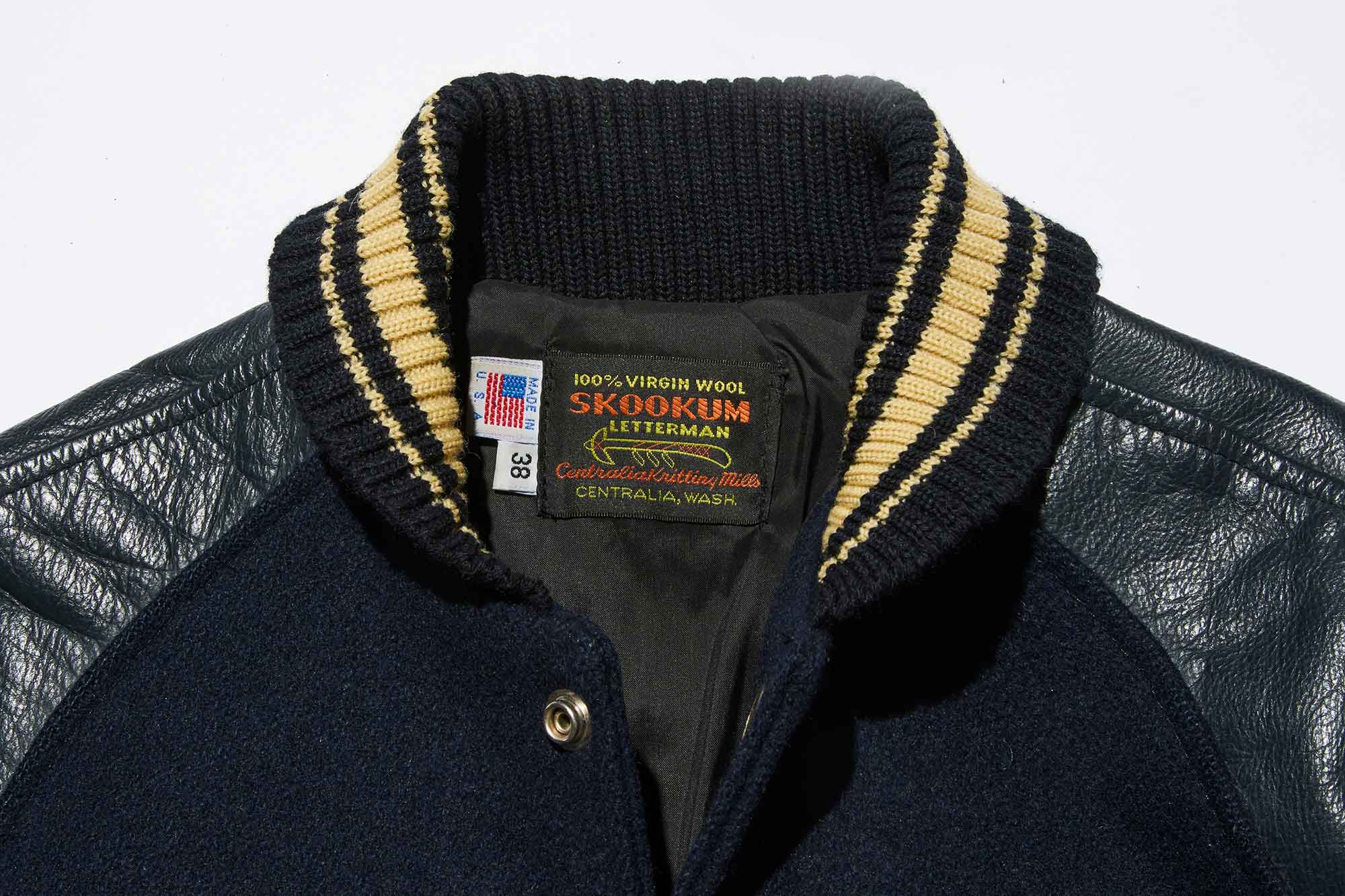 At the neckline, there is a brand tag along with a tag that conveys "Made in USA."
In any case, this jacket, solid yet with a relaxed length, expresses a different kind of refinement compared to decorative stadium jackets. Its modern silhouette also exudes a sense of relaxation and should effortlessly fit into current trends.
In 2019, the brand was once discontinued, but it was resurrected by fans in Japan. I hope you can feel the warmth, considering this background.
Popular Brands of Stadium Jackets - #4
VAN - A monument to Japan Ivy recognized by that big star.
When talking about Japanese Stadium Jackets, you absolutely can't avoid mentioning VAN. In fact, the very name "Stadium Jacket" originated here. VAN is not just an apparel brand but the first men's fashion brand in Japan to propose an entire lifestyle. Its achievements are immense.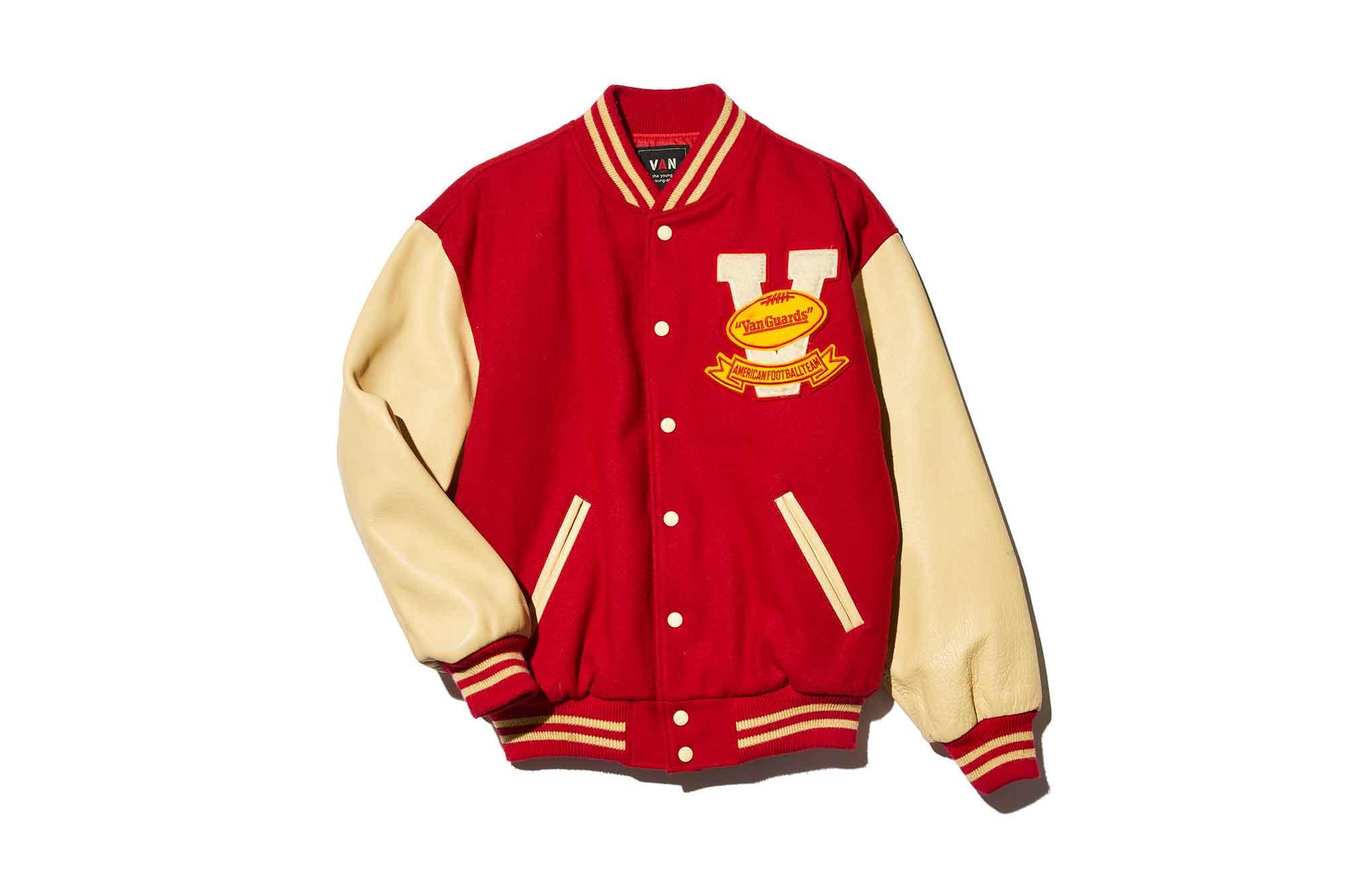 This brand was founded in 1948 by none other than the godfather of Japanese fashion, Kensuke Ishizu. He was the one who coined the term "Stadium Jacket" and introduced American culture and style to Japan, establishing what's known as "Ametora" (American Traditional) style. With the rise of Ivy fashion in the 1960s, Stadium Jacket popularity also soared, becoming a major movement.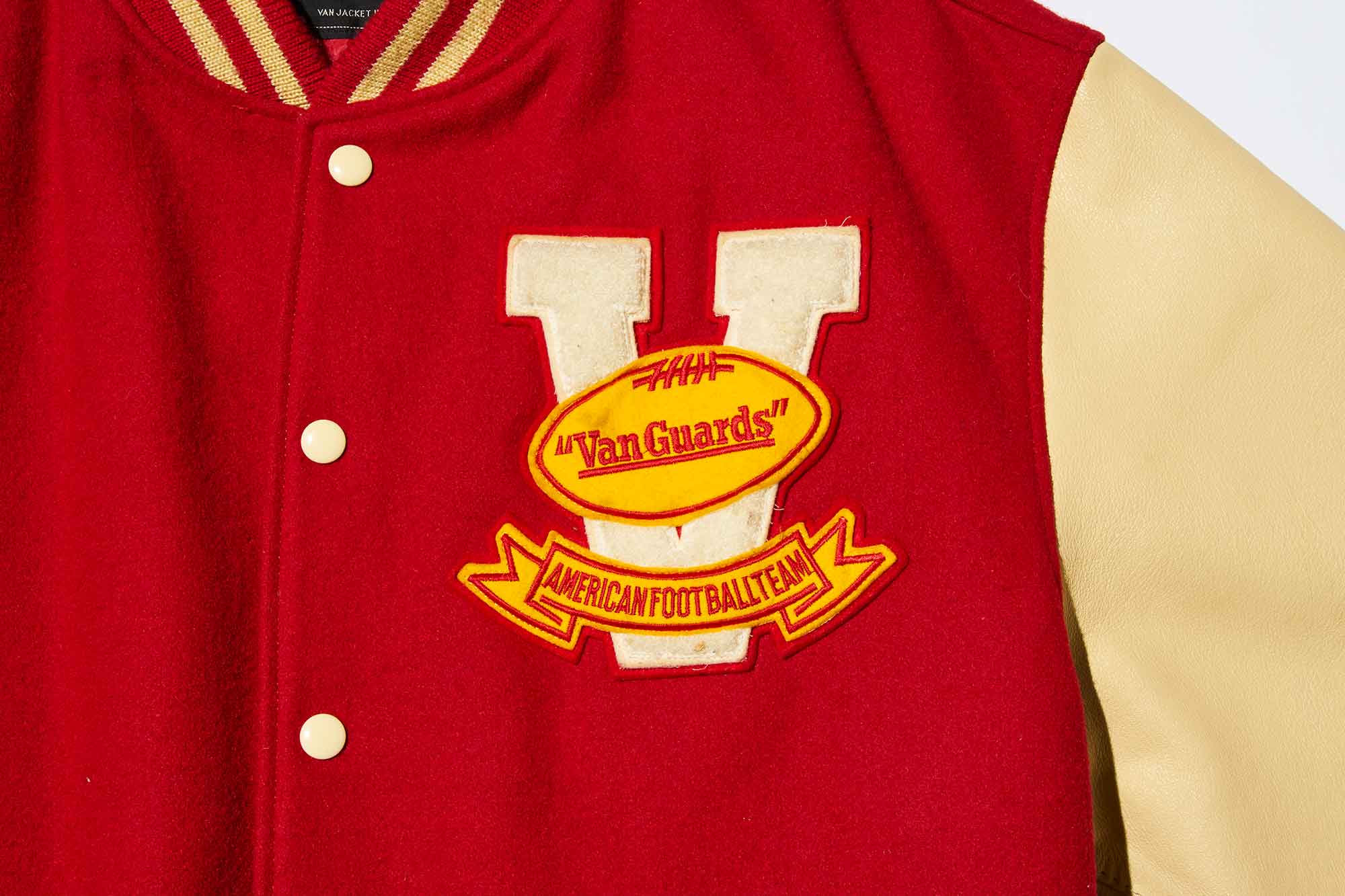 The quality of VAN's products is highly regarded not only by Japanese but also by legendary American stars. Let me share an episode involving the King of Pop, Michael Jackson.
While Michael is often associated with the Stadium Jacket due to his iconic "Thriller" music video, he had a special encounter during his 1987 "BAD World Tour" visit to Japan. When Michael visited a studio in Azabu-Juban, Tokyo, an employee of VAN, whose office was nearby at the time, presented him with their Stadium Jacket. Michael liked it very much and continued to wear it throughout the tour.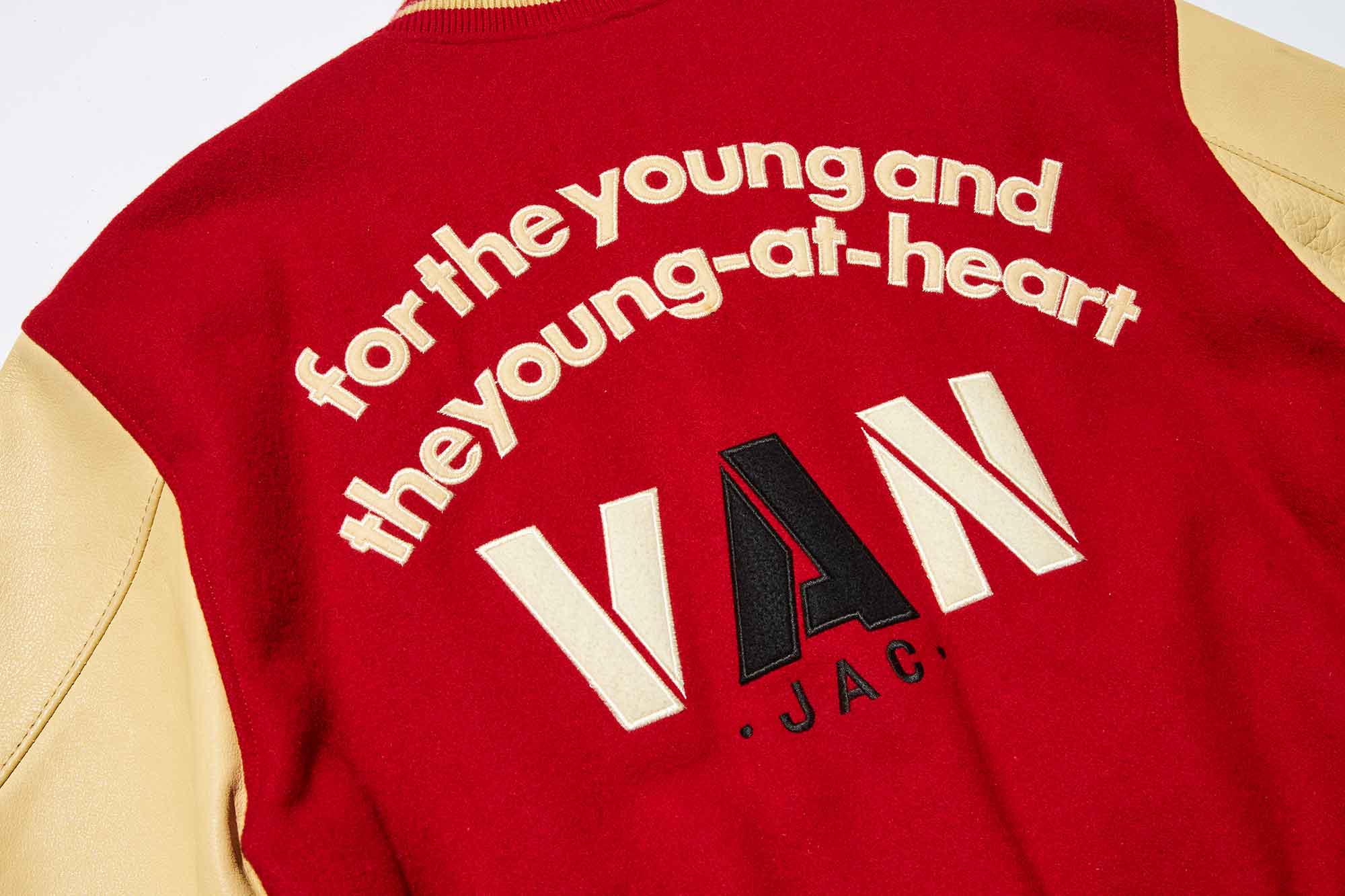 The familiar catchphrase inscribed on the back still carries a timeless message.
The item in the photos closely resembles the one worn by Michael. It features VAN's initial "V" in a chenille patch, with an American football team-style patch on top. However, Michael's jacket had decorations related to American football players. Nevertheless, the differences are minimal. Moreover, this is a valuable original piece from that time (model number JW-10502), and the size is likely the same as what Michael Jackson wore.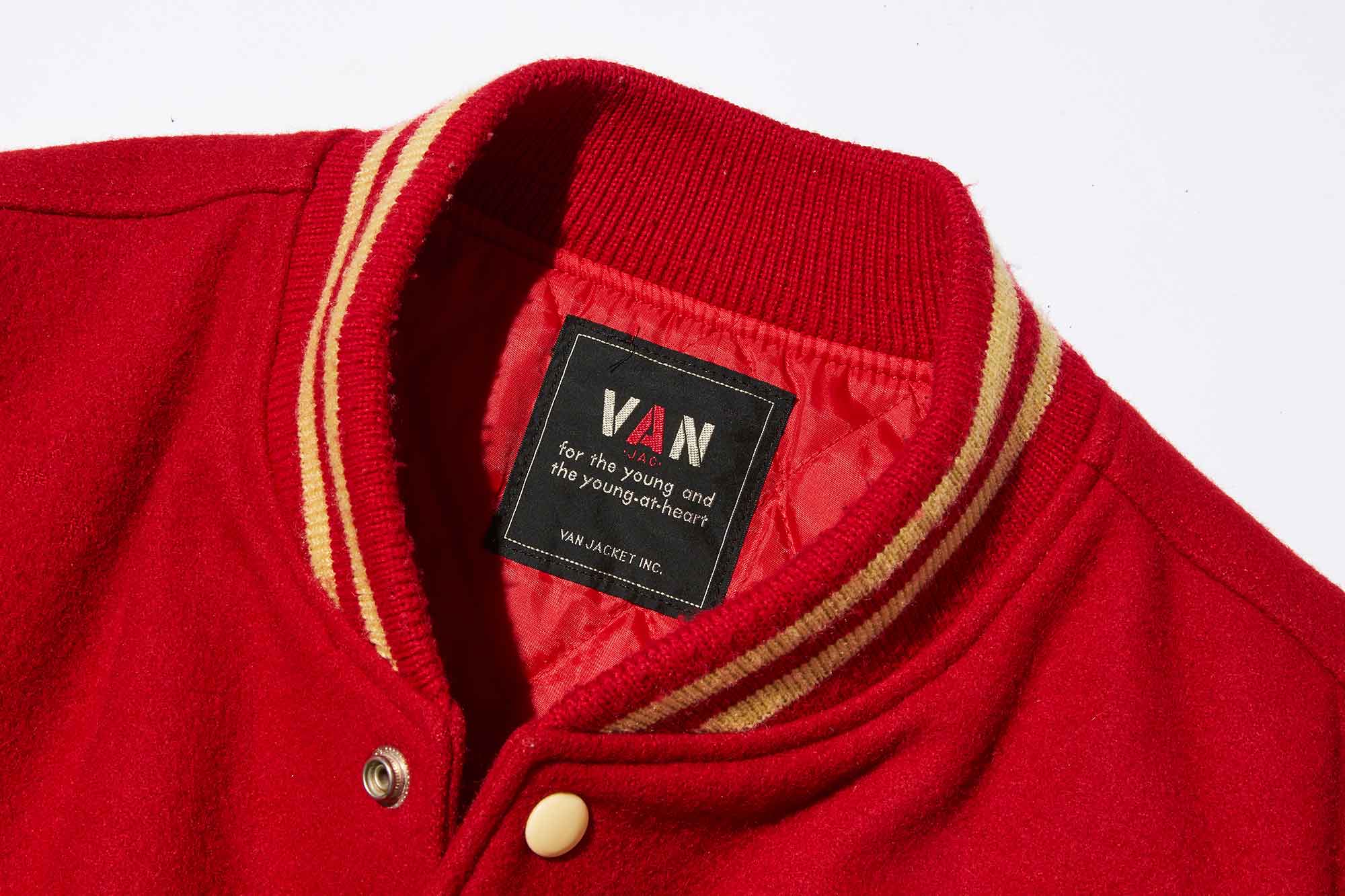 Under the brand tag at the neckline, there's a tag conveying "Made in USA."
In any case, this jacket, with its solid yet relaxed length, expresses a different kind of sophistication from decorative Stadium Jackets. Its modern silhouette adds a relaxed feel and seamlessly fits into today's trends.
In 2019, the brand was once discontinued but was revived by Japanese enthusiasts. I hope you can feel this warmth, considering this background.
Popular Brands of Stadium Jackets - #5
STUSSY - A lively celebration with special limited editions and vibrant chenille patches.
Lastly, we have the appearance of STUSSY, the brand that commands respect even from crying children. However, you might be surprised to know that apparel was actually a side business for Stussy.
Shawn Stussy, who made a living as a surfboard shaper in Laguna Beach, California, established his brand in 1980. It all began with logo-printed T-shirts featuring the family name STUSSY, but at that time, the main focus was still on the surf business.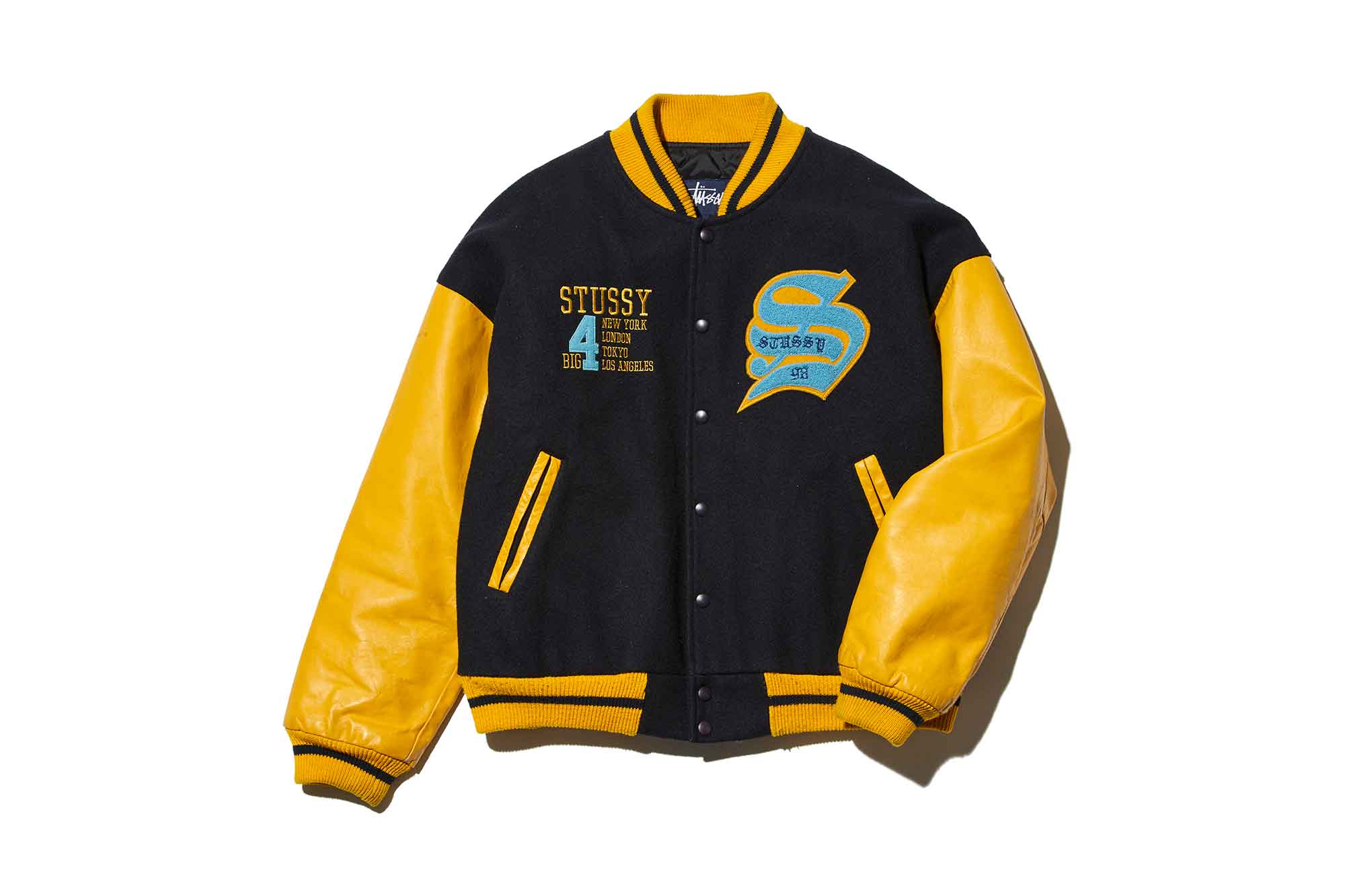 By the way, let's digress for a moment. Sukajan, an item often associated with the theme of this article, might sound similar to Stadium Jacket, but they are entirely different. While both have names derived from Japanese-English, Skajan refers to a rayon jacket with Japanese motifs like Mount Fuji or hawks, resembling a Stadium Jacket in appearance.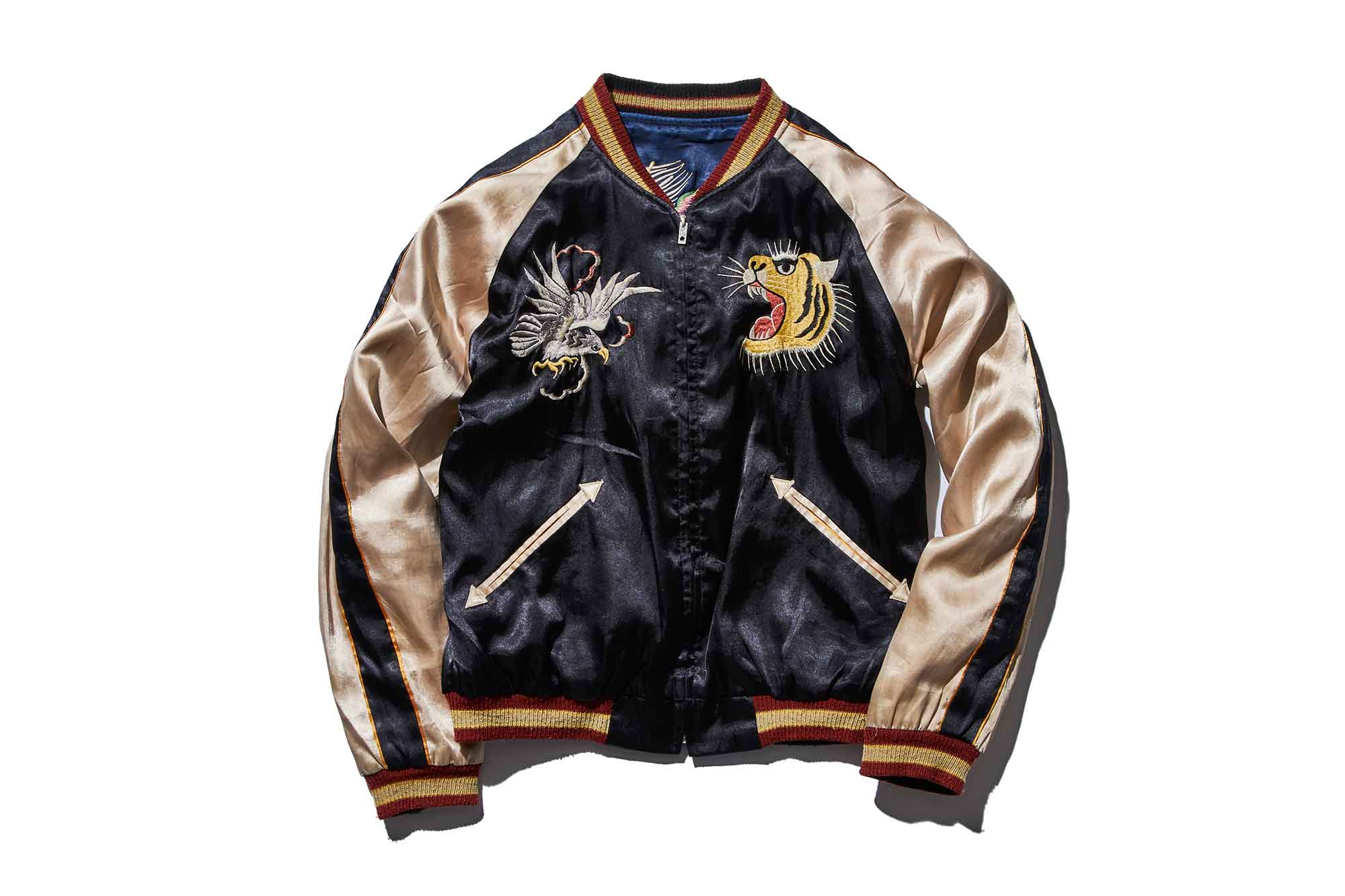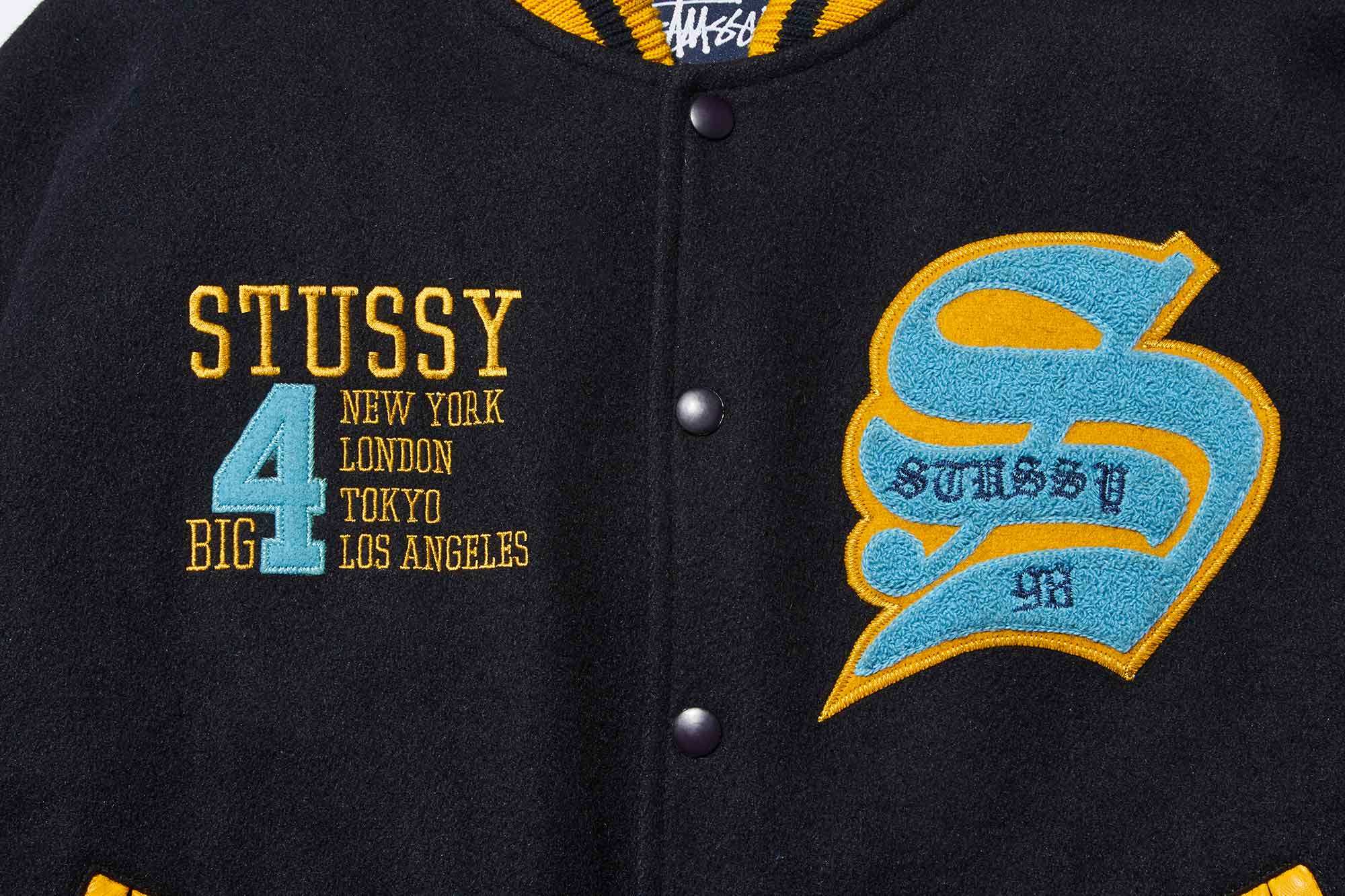 In any case, back to STUSSY's Stadium Jacket. Let's take a closer look at it. It was released in 1998 and was known as the "BIG 4 Stadium Jacket," available exclusively in four major cities: New York, London, Tokyo, and Los Angeles.
The tag, which is drawn in what is commonly known as Shawn's font, is still in existence.
Among the various color variations of this rare item, the combination of deep navy melton body and bright yellow leather sleeves is especially street-inspired. It evokes the iconic color scheme of a certain professional basketball team in Los Angeles.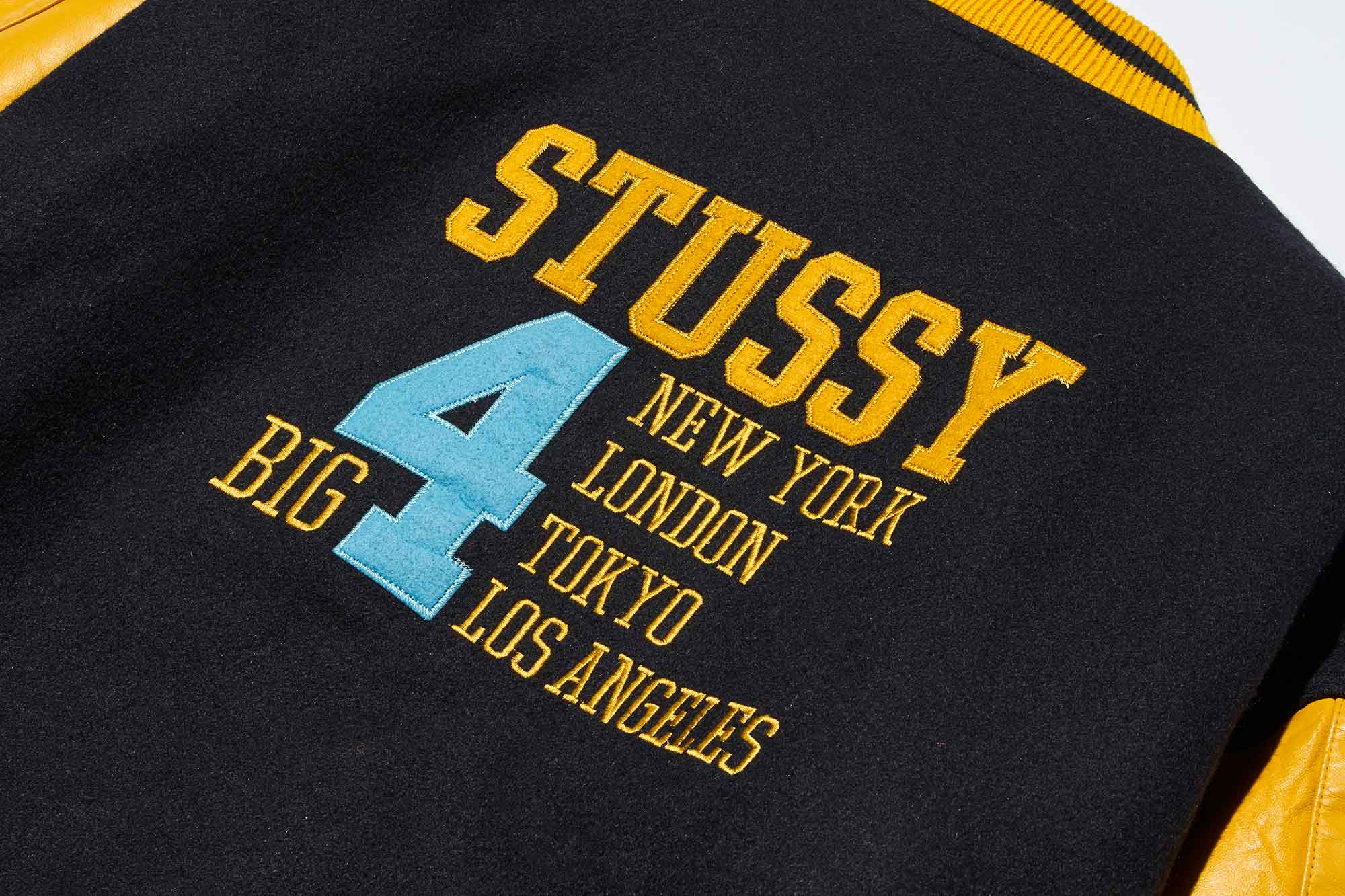 Vibrant chenille patches liven up the front design.
Pay attention to the special decorations as well. The front right chest features embroidered and felt letters spelling out "BIG 4". The back also includes the same words prominently. On the front left chest, you can find the chenille patch with the brand's initials "S" and "898," signifying 1988. It's like celebrating an anniversary as if you were part of the crew.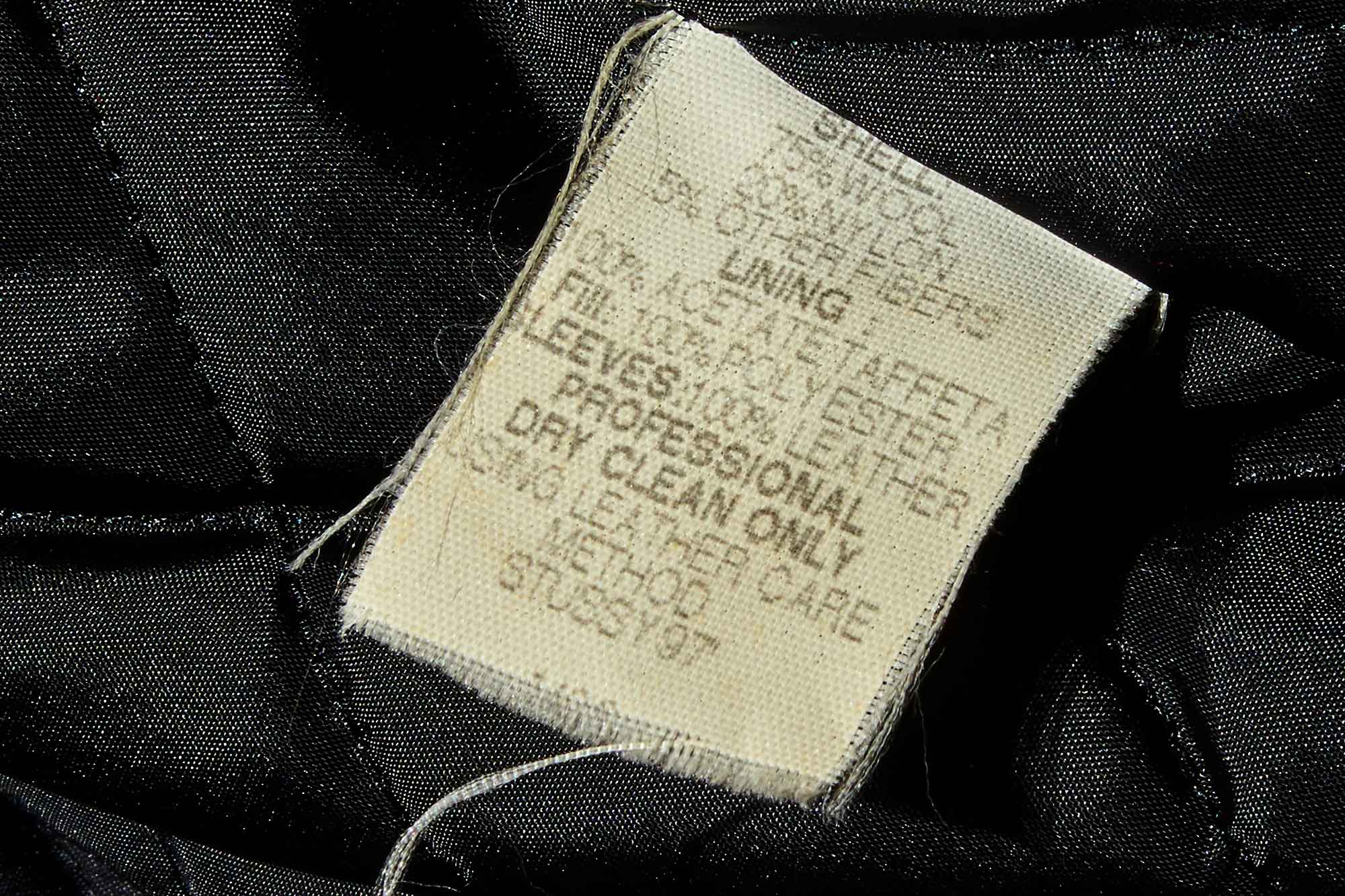 According to the quality label, was this made in 1997?
Time has indeed flown by, with over 40 years passing since STUSSY was founded. "OLD STUSSY," including this item from 1988, has become increasingly rare and is expected to become scarcer and more valuable in the future. I hope you can find it in the second-hand market as soon as possible.
In conclusion, the Stadium Jacket, a staple in Americana fashion that simultaneously focuses on the sports scene while proudly displaying its own roots, offers an unmatched power as a companion in uncertain times.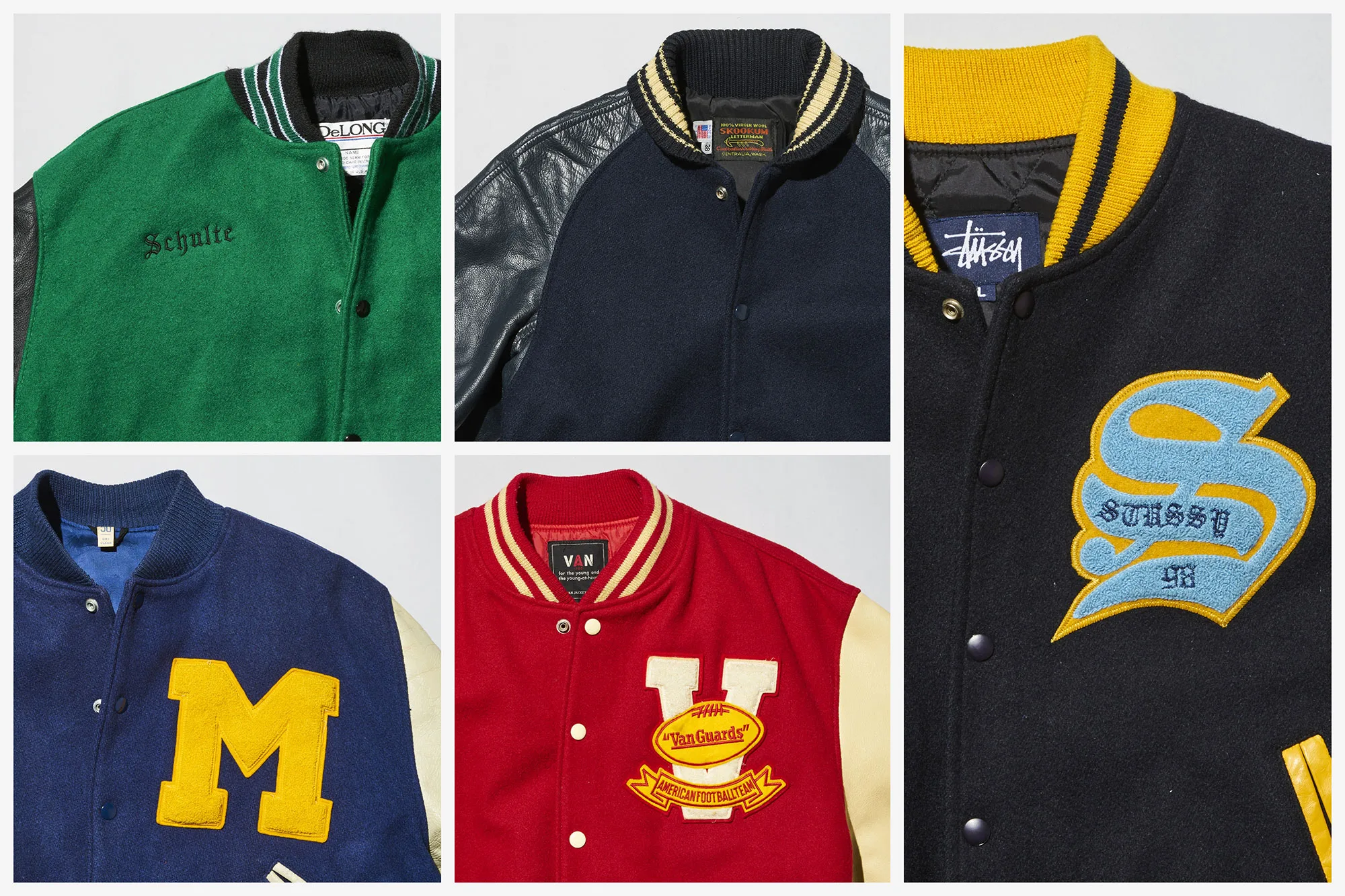 What is a Stadium Jacket? Ultimately, the answer to that question may vary from person to person, depending on who actually holds it. However, the common strength is the joy of wearing what you personally like to express yourself. And right now, I believe that's the most powerful vaccine to embrace your unique lifestyle.