Kiryu Jumper Research Institute
"A long time ago, skajans were made in Kiryu."

 

The Kiryu Jumper Research Institute is researching the legends that have been whispered about in Kiryu City, Gunma Prefecture, which is a textile producing area.

 

In order to preserve the manufacturing technology of Japan's first jumper, a sukajan (souvenir jacket), which was created for people to live in the chaotic period after the war, we will deliver your unique jumper from the production area.
#1 I want to preserve the traditional manufacturing method!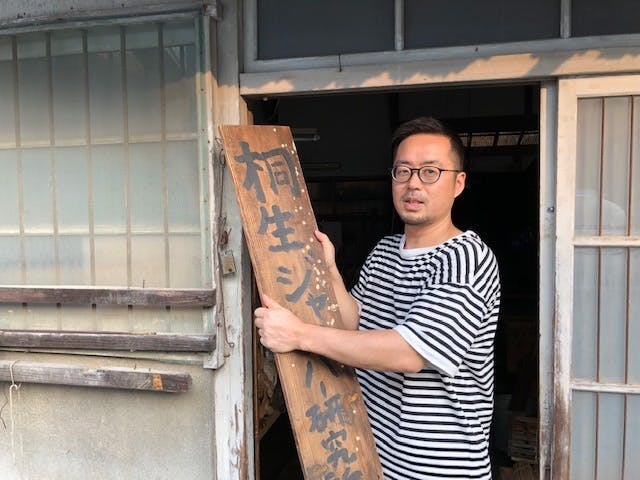 nice to meet you. My name is Hiromasa Matsudaira from the Kiryu Jumper Research Institute.
Up until now, we have been connecting the apparel industry with Kiryu City, Gunma Prefecture, a textile producing area, and helping people make clothes.
One day in 2017, 11 dead stock sukajans were discovered in a private house. The Skajan jacket, which had been kept in a brown box, is in shiny new condition. Evidence that Sukajan was produced in Kiryu has been unearthed! I was so excited that I decided to create the ``Kiryu Jumper Research Institute'' to recreate a small factory from the Showa era in Kiryu City.
(*Image is for illustration purposes only)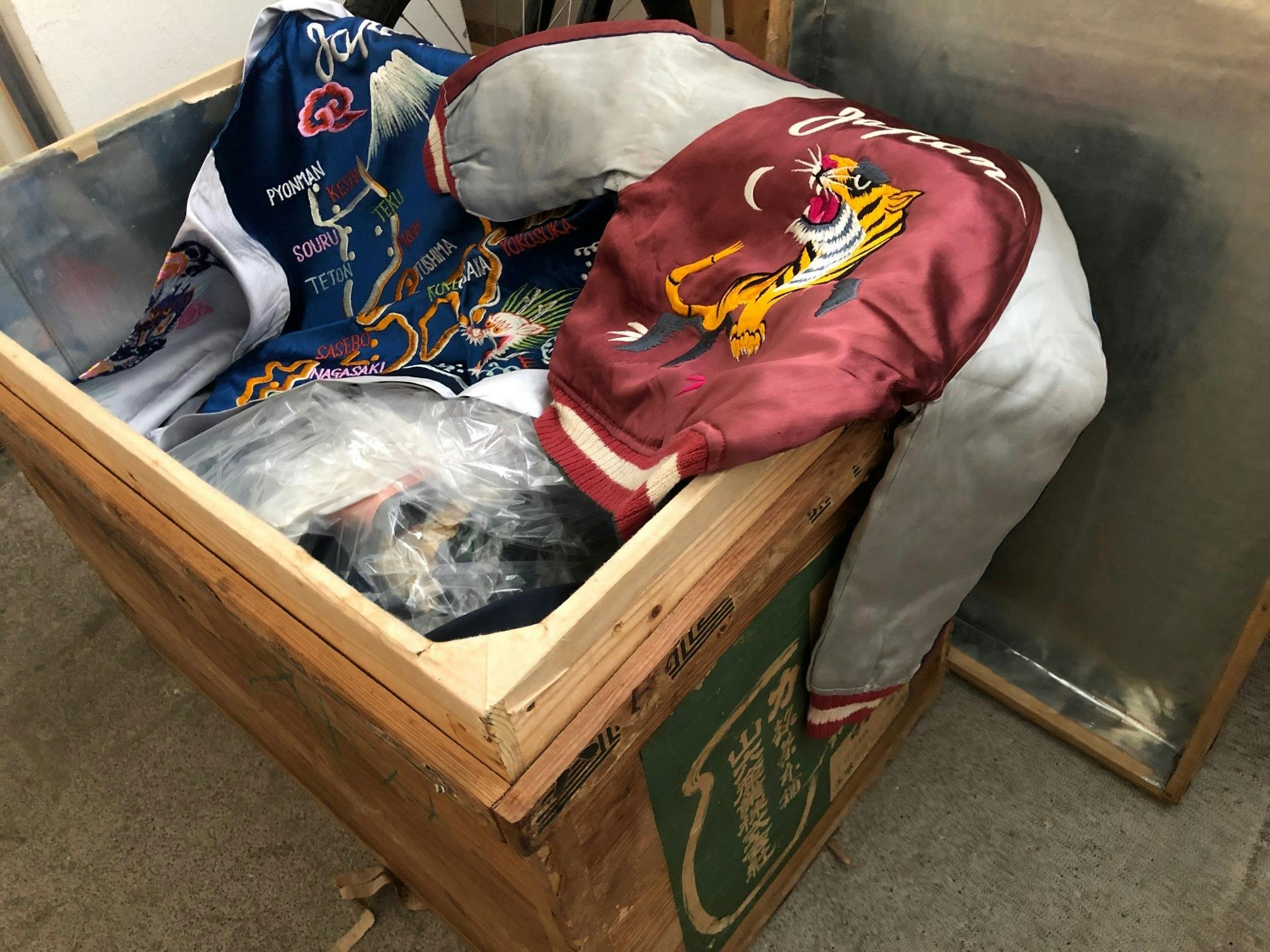 What kind of image do you have of such "sukajan"?

It may not be an exaggeration to say that it's a jumper worn by a thug who plays the role of a criminal in a two-hour drama. However, its history dates back to the period of occupation by Allied forces (1945-1952) after Japan was defeated in the Pacific War. At that time, the sukajan was called a ``jumper'' or ``embroidered jumper,'' but in English it is called a ``souvenir jacket.'' A souvenir is a souvenir, and at that time there were a variety of souvenir products. There were also handkerchiefs, scarves, tapestries, cushion covers and gowns. Among them , the Skajan jacket was particularly popular among soldiers . As a souvenir of your stay in Japan, or as a souvenir for your family or lover back home. Our predecessors in Kiryu, a textile-producing area, made use of their specialized techniques . Its charm lies in the technique called "horizontal embroidery", which originated in Kiryu City. Skajan jackets made at that time are now considered vintage, and some enthusiasts can sell them for hundreds of thousands to millions of dollars.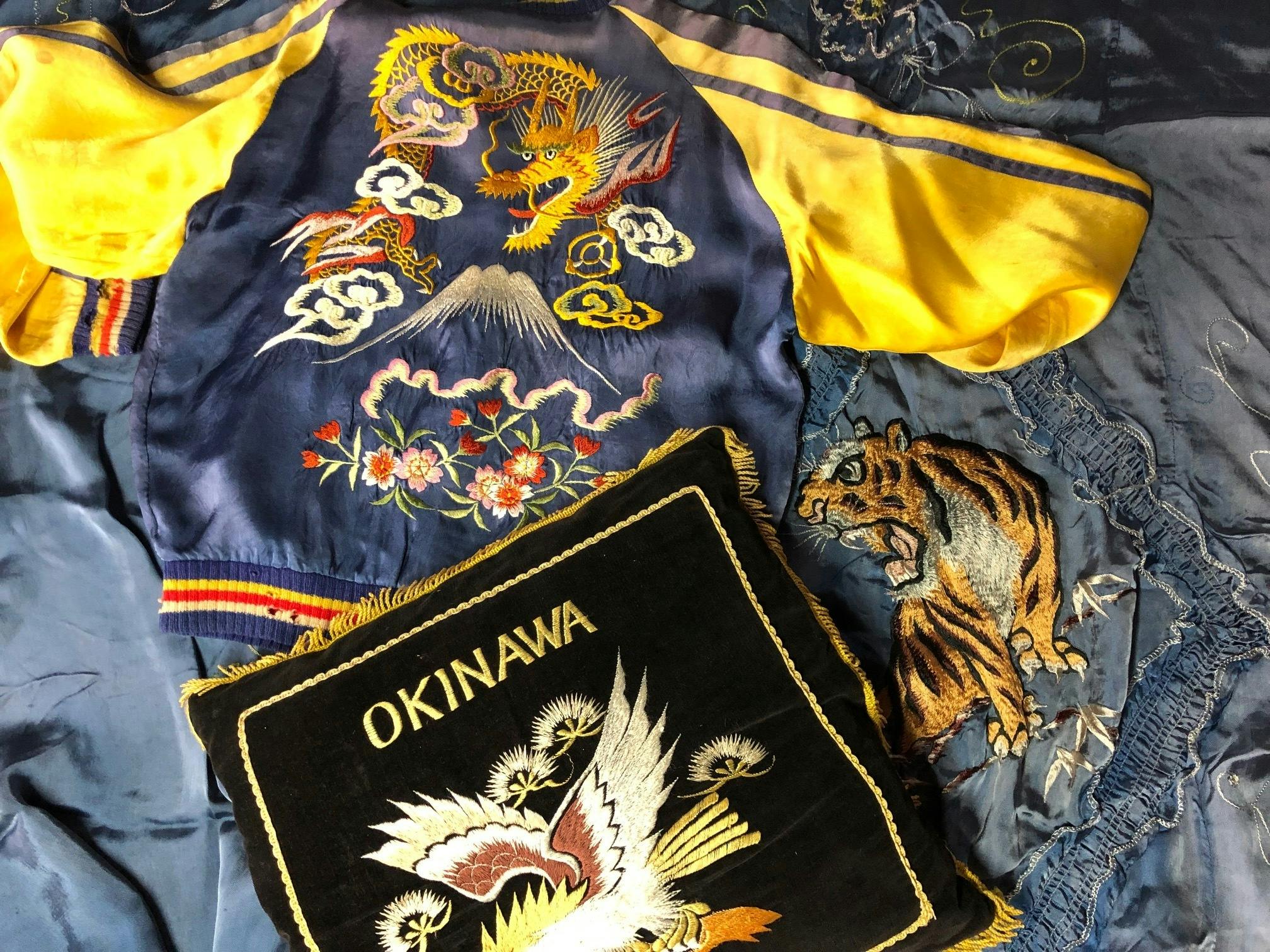 The job of the Kiryu Jumper Research Institute is to preserve and pass on the history of jumper production, including sukajans, in Kiryu. Mainly, we collect souvenir products such as vintage sukajans left in various parts of Kiryu, as well as related materials and tools, preserve and pass on the production techniques of the time, and recreate the sewing factories of the time. The former textile factory that was built about 60 years ago has been steadily renovated into the Kiryu Jumper Research Institute.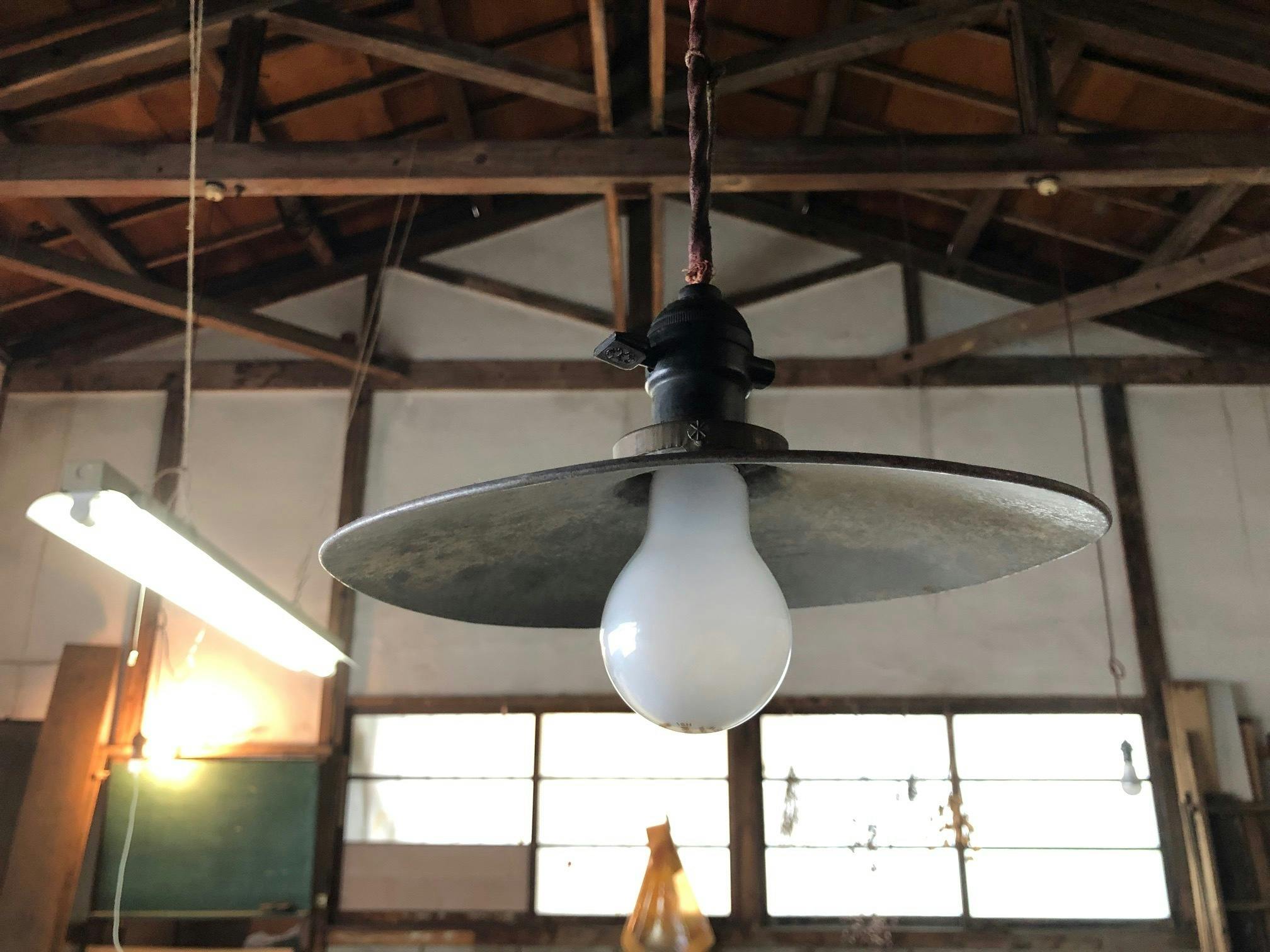 However, passing on technology takes time. You won't improve unless you do real work. To achieve this, it is essential to actually produce jumpers of high quality and in a certain quantity. Therefore,,,
The concept is ``Original jumpers made by craftsmen who know the manufacturing methods of the time, using the equipment of the time, surrounded by tools and furniture that retain the atmosphere of the time.''
I want to create the best embroidered jumper, with everything from the design to the sewing and embroidery done by craftsmen in Kiryu!
#2 Why do we insist on traditional manufacturing methods?
This is horizontal embroidery that originated in Kiryu City!
The rhythmic sound of this sewing machine, the smooth movement of the needle and thread as if they were drawing a picture, the slightly different nuances even with the same pattern, the movement of the knees that freely change the width of the stitches, every movement feels like a work of art. is not it.
The finished sewing looks like this↓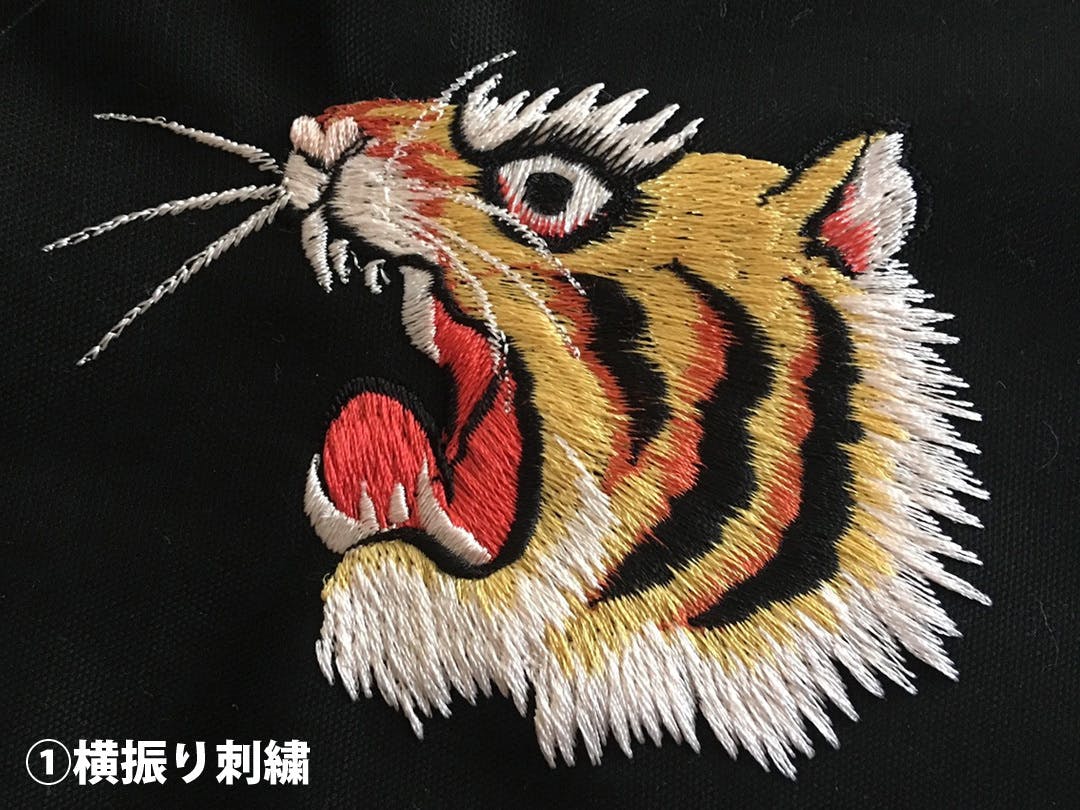 Please look at the image above ↑
① Soft finish with horizontal embroidery. I feel like it's not good. Even the same pattern can look different depending on the person sewing each piece. I want to preserve this technology somehow.
②The same tiger face sewn using a computer-controlled Jagger sewing machine. You can sew multiple pieces of the same item at the same time, resulting in a flatter finish.
Currently, most of the new skajans on the market that cost less than 100,000 yen are made with jacquard embroidery (2), and those sewn with horizontal embroidery are either very expensive or are one-of-a-kind items with only a part of the logo sewn on. Only those that exist exist.
Although this is a valuable horizontal embroidery, the number of craftsmen working on it is decreasing. Even so, there are young people from all over the country who come to Kiryu to learn horizontal embroidery. Just because they learn a skill doesn't mean they are guaranteed a job. However, since they have come to Kiryu, I would like to create as much work as possible.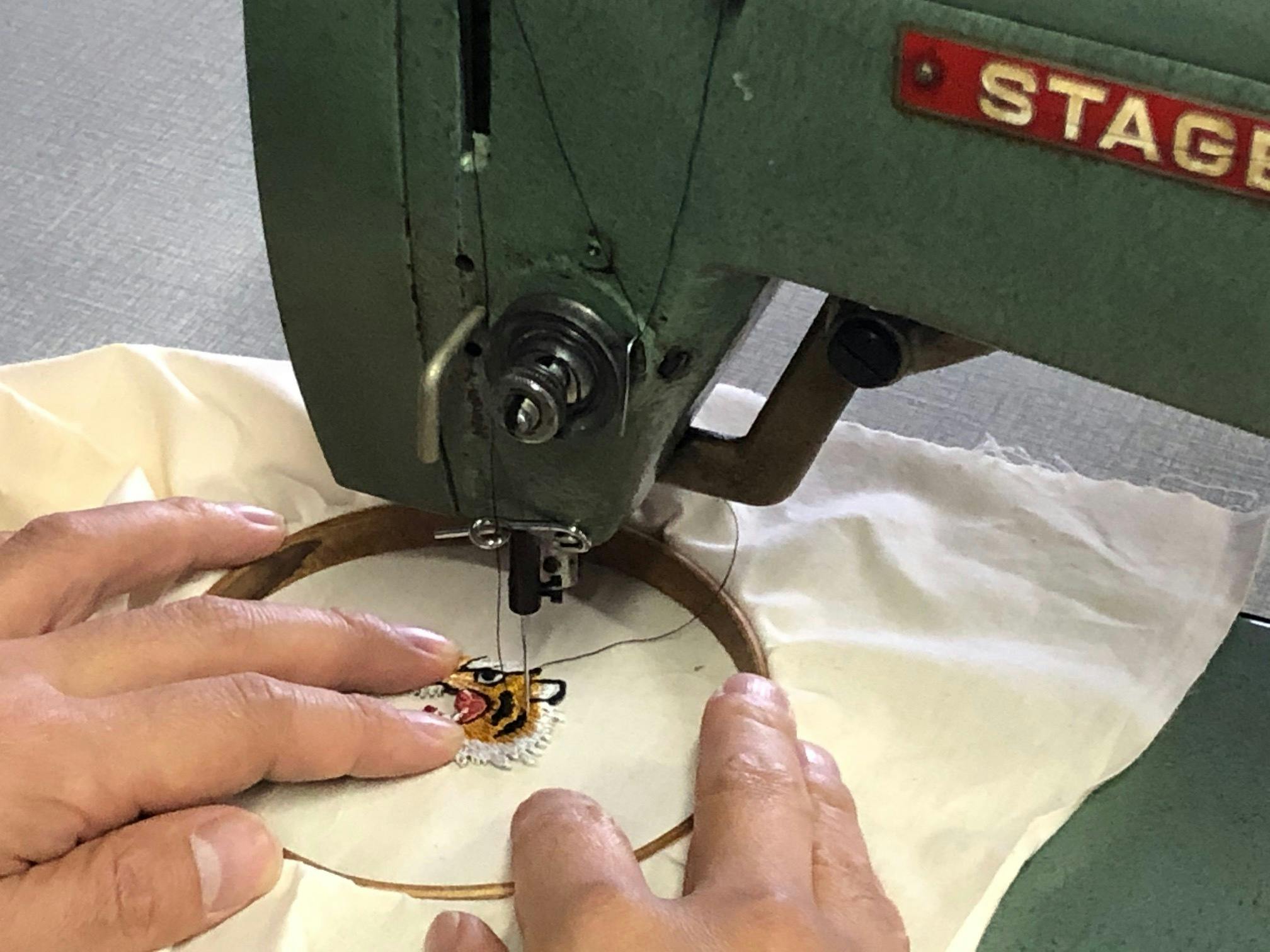 Established in 1949, it is the only sewing factory in the city that knows the sukajan manufacturing method from back then. There is no successor to the sewing factory either. Although I cannot take over the factory that is running at home, I am currently researching how to at least take over the technology. says the president. ``If you don't sew numbers, you won't improve.''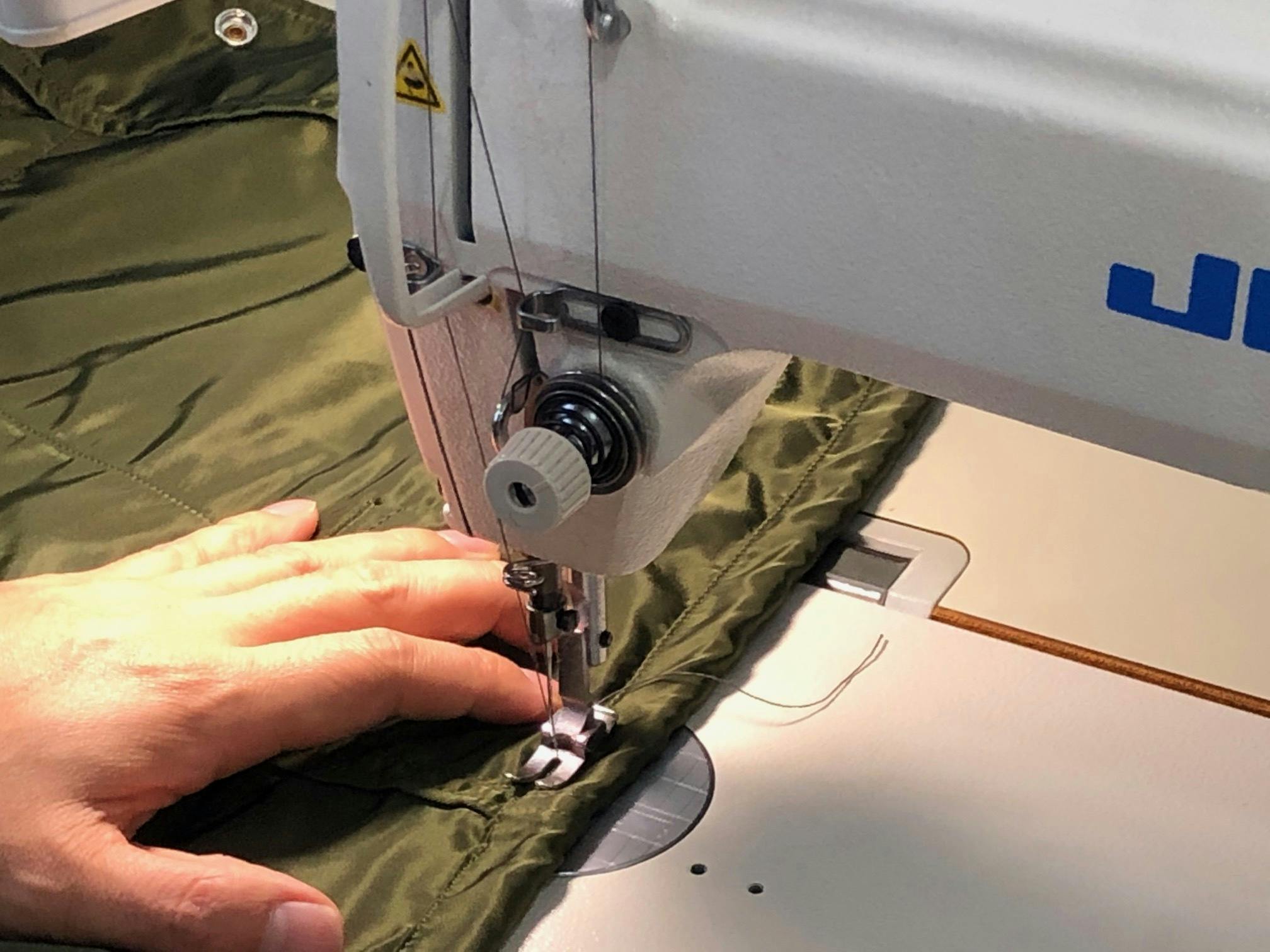 In fact, while I was immersed in research in the warehouse of this garment factory, the only one in Kiryu that knows its origins, I discovered several cool jumpers made about 20 years ago. Since the 1950s, this factory has been exporting swing tops to Sears in the United States and car coats to West Germany. Furthermore, at the dawn of the American outdoor brand, they produced mountain parkas and flight jackets, which were known as aviation jumpers at the time. It would be cool to add horizontal embroidery of a tiger to this so-called vintage dead stock jumper made by such a valuable factory! I couldn't wait, so I decided to make a sample right away. I then decided that I wanted to ask the world about this through crowdfunding. We would like to make jumpers made using Kiryu's traditional manufacturing methods, tell you how good they are, and share the joy of seeing them as finished products.
(Coach jacket↓)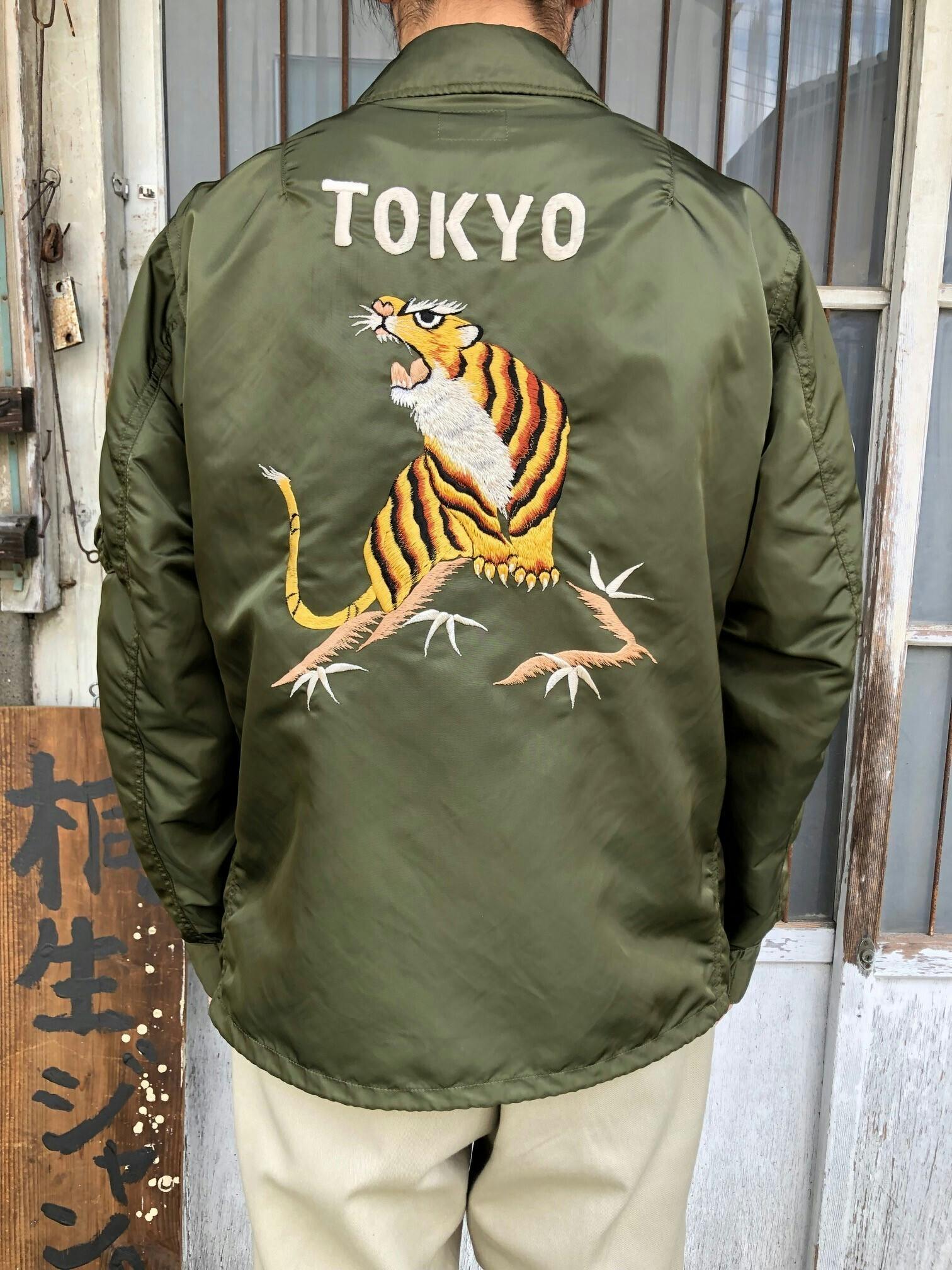 #3 What I want to convey through "embroidered jumper"
The standard patterns for Sukajan are oriental designs such as hawks, dragons, and tigers.
This time, we feature a ``tiger'' among them. We have achieved a design that is easy for anyone to understand and an exquisite balance. There are two types of color schemes: color and monotone. Furthermore, we will add your own original characters to the name on the chest and the city name on the back. Of course, all of the embroidery is horizontal embroidery, sewn one by one by young craftsmen.
I personally handle everything from design to production by Kiryu artisans, and I would like to connect directly with the patrons who have supported me. (However, since it is dead stock, we can only sell a very small quantity, so please forgive us.)
The dead stock products we will be producing this time are as follows. Regarding L-2B, we accept full orders from embroidery designs to original drawings. We have also prepared T-shirts and mini-patches as a return item so that you can wear them more easily. Of course, everything is made with horizontal embroidery. Please see returns for details.
<Coach jacket M size x 1 piece/L size x 1 piece>
<L-2 36 size x 2 pieces/40 size x 2 pieces>
<L-2B 40 size x 2 pieces>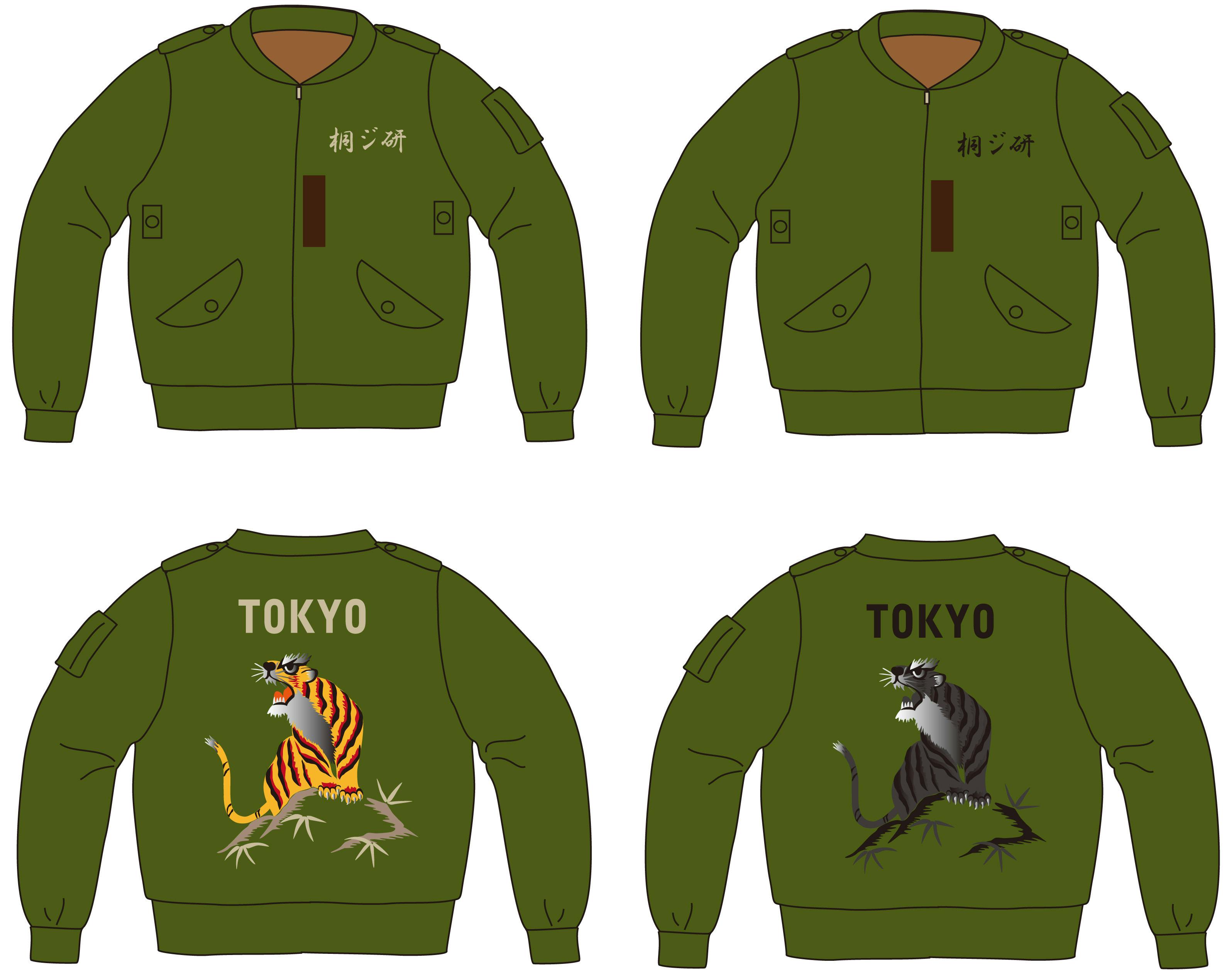 Your own embroidered jumper
There are so many jumpers in the world. Lots of new, used, and vintage items. But wouldn't you treasure it if it was your very own horizontal embroidered jumper made using the old-fashioned traditional method ?
I can repair it as long as I'm alive.
Even if you take good care of your item, do you ever end up with holes in the ribs or broken zippers? It will be costly, but it can be repaired. That is as long as you are alive. For those who become patrons this time, repair and repair support will be included as standard equipment.
Please help us develop our craftsmen.
No matter how much you cherish something, if there are no craftsmen to make it, you won't be able to repair it. I don't want to crush the dreams of young craftsmen. We will establish a production system where you can see the face of the maker and know who made the stitches. I hope that I can create even a small amount of work for them. Thank you for your cooperation.
(L-2↓)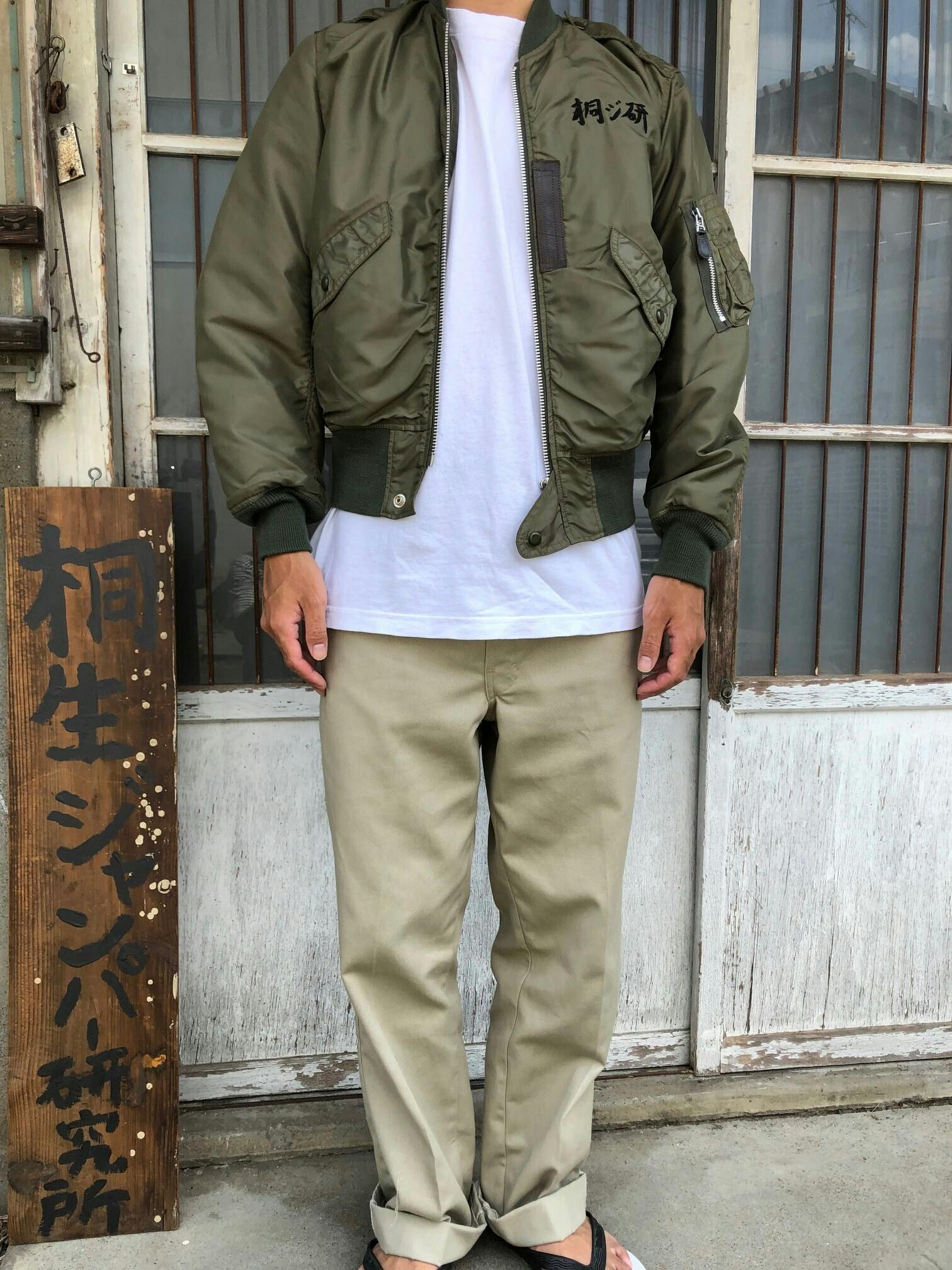 Many times I have seen garment factories go out of business due to lack of successors, and young craftsmen from all over the country returning to their hometowns due to lack of work. I want to do something about it every time! Even if I think about it, I can't seem to find a clue. Therein lies the history of Kiryu's Skajan production. I want to somehow connect and preserve the history that has now been forgotten. The mission of the Kiryu Jumper Institute is to preserve the sukajans and the techniques associated with them, which were made by anonymous craftsmen before denim jeans were sewn in Japan.
(L-2B front body↓)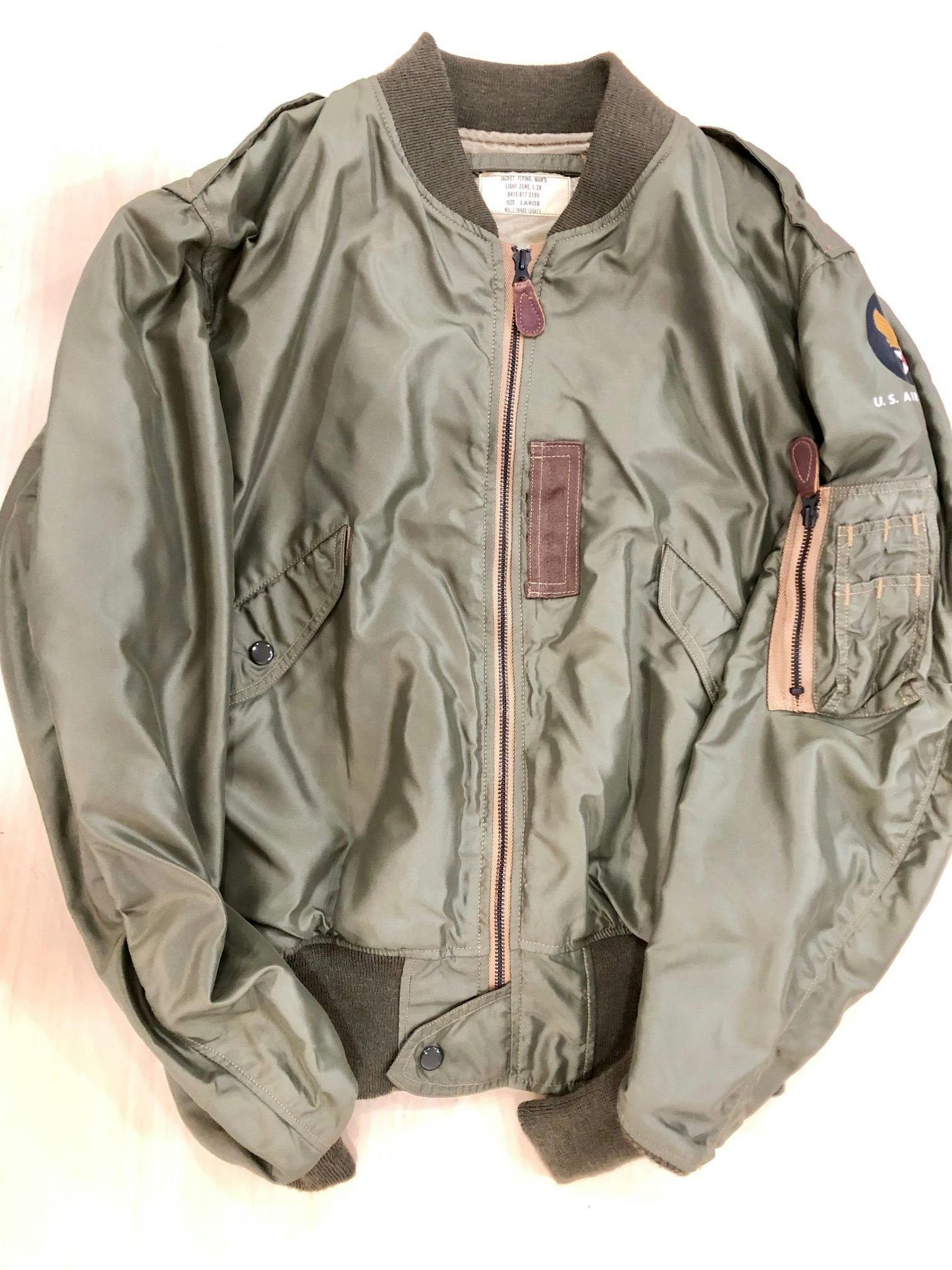 (L-2B back body↓)
#4 About size
Please see below for the sizes of the three types discovered this time: L-2, coach jacket, and L-2B.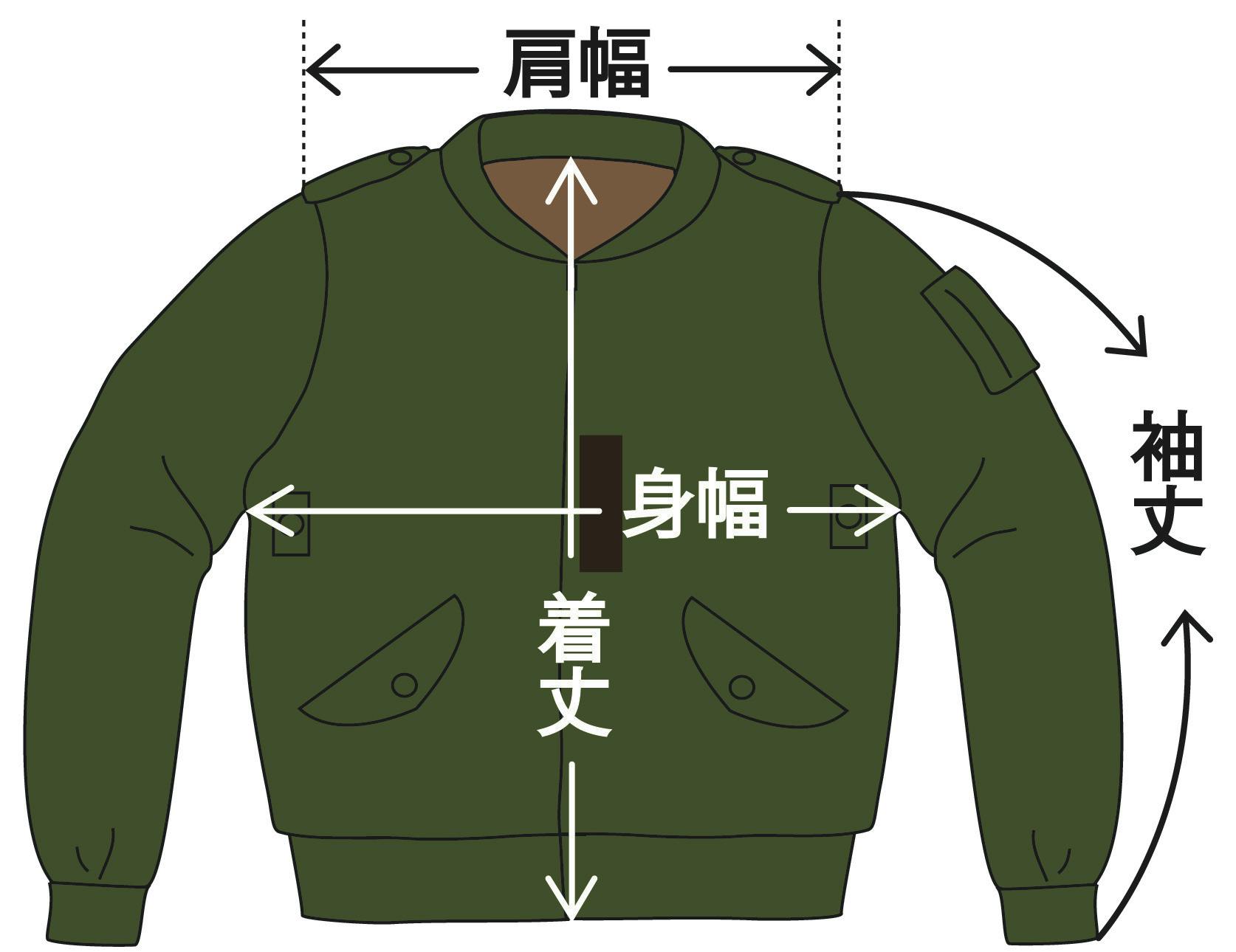 To be honest, this product was made in Kiryu nearly 20 years ago, so unlike current trends, it is quite slender and has a shape that faithfully follows the vintage style. It may not be the easiest clothes to wear. However, your support will help us develop our craftsmen. If you are unsure about the size, please contact us via message. For those who become patrons, we will provide full support even after the crowdfunding ends.
#5 How to use money
The reason why we used crowdfunding this time is because it allows the craftsmen to directly convey their thoughts to everyone, and it also ensures that everyone who supports us will receive in return the proud embroidered jumper that they worked so hard to make. We would like our patrons to have a long-term relationship with our products and the Kiryu Jumper Research Institute, and we would like to create a relationship that makes everyone involved happy. The funds you support will be used to partially cover operating costs such as return production costs and personnel costs for training craftsmen. Thank you for your support.
Return production cost/labor cost: Approximately 300,000 yen
Packing/shipping delivery cost: Approximately 30,000 yen
Campfire fee (17%) Approximately 70,000 yen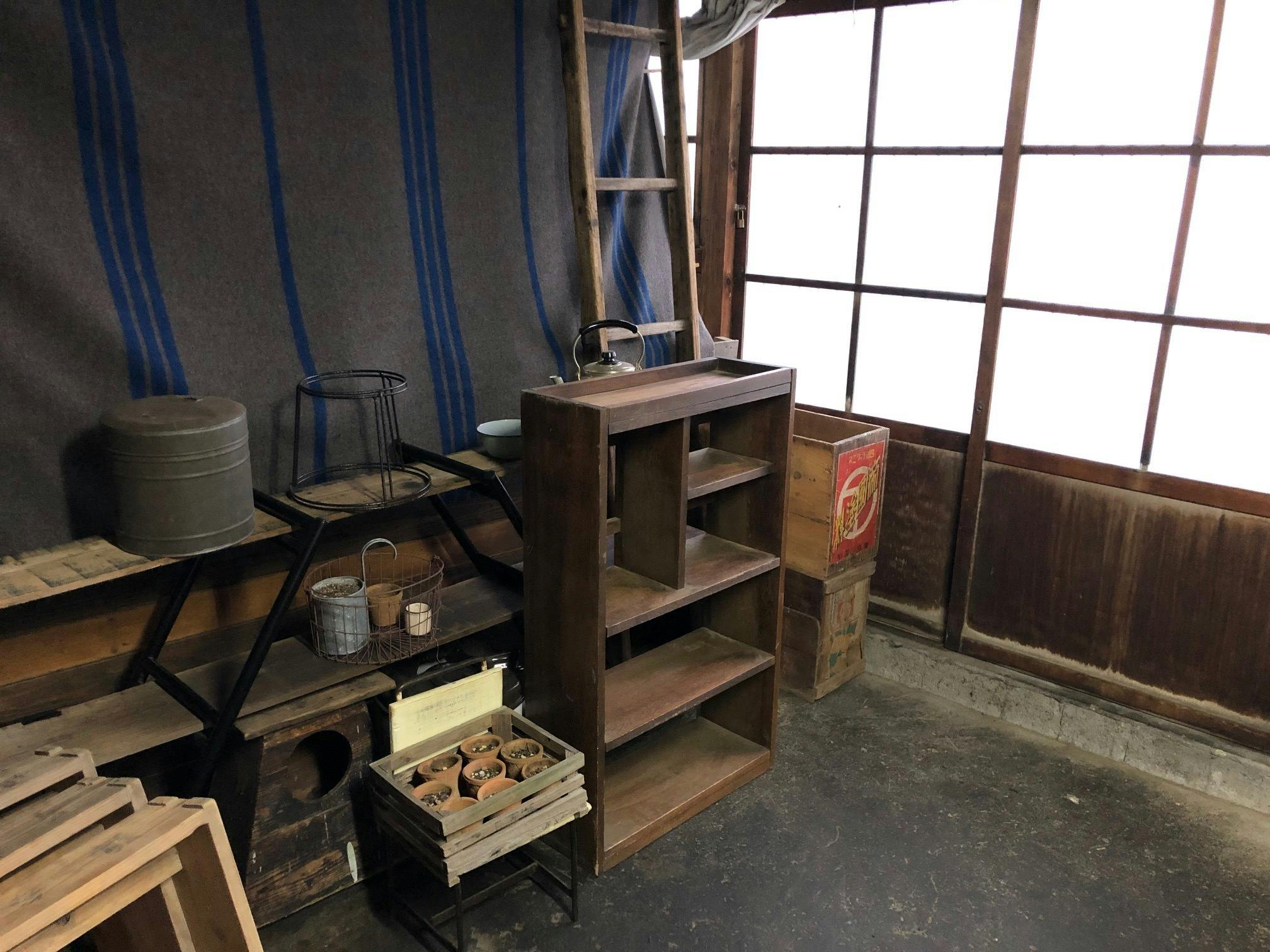 #6 About returns
①3,000 yen thank you email + name publication rights
②6,000 yen "Tiger" horizontal embroidery patch x 2 set + name publication rights
③10,000 yen "Tiger" short-sleeved T-shirt with horizontal embroidery + name publication rights
④30,000 yen Right to see horizontal embroidery + name publication right at Kiryu Jumper Institute
⑤42,000 yen Embroidered jumper "Coach jacket (M/L size)" + Name publication rights
⑥54,000 yen Embroidered jumper "L-2 (36/40 size)" + Name publication rights
⑦65,000 yen Embroidery jumper "L-2B custom order (40 sizes)" + name publication rights
*All patrons will have their names posted on the Kiryu Jumper Institute website.
#7 Schedule
Crowdfunding starts in early October
Mid-November Crowdfunding ends, production begins
Production ends in mid-December
Shipping in late December (scheduled to arrive by Christmas)
▼Finally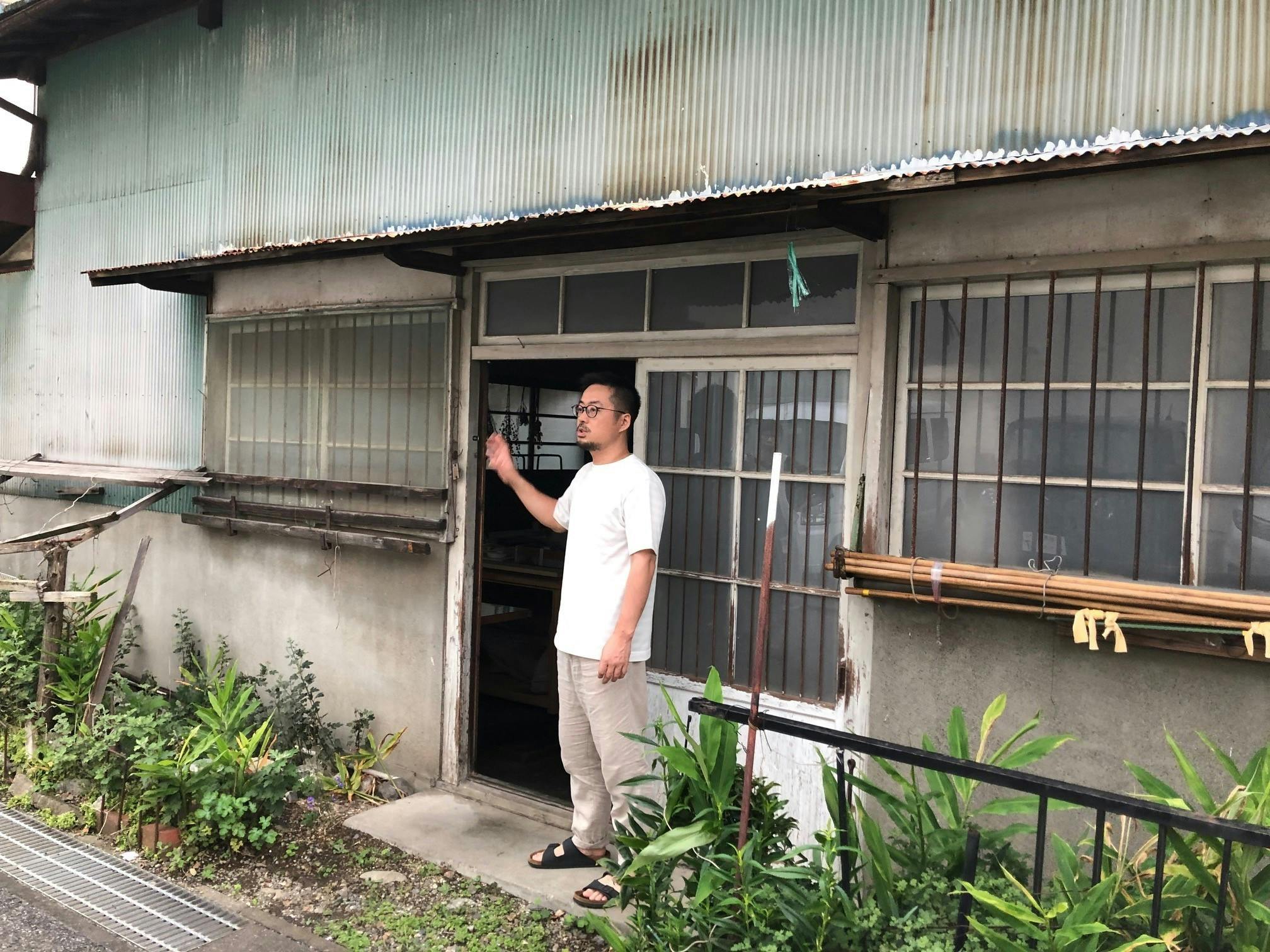 Thank you for your continued support.
Kiryu Jumper Research Institute was founded by myself with the desire to preserve the history of Kiryu's jumper production, and I believe that we are the last generation to preserve this history.
There are still other good old jumpers that we would like to preserve in modern times, and in the future, we would like to recreate the small factory of the Showa era, create a craftsman training institution, and create a museum function, and hope that people from all over the world will aim to become the Kiryu Jumper Research Institute. I think I want to do.
We appreciate your continued support as we take this first step.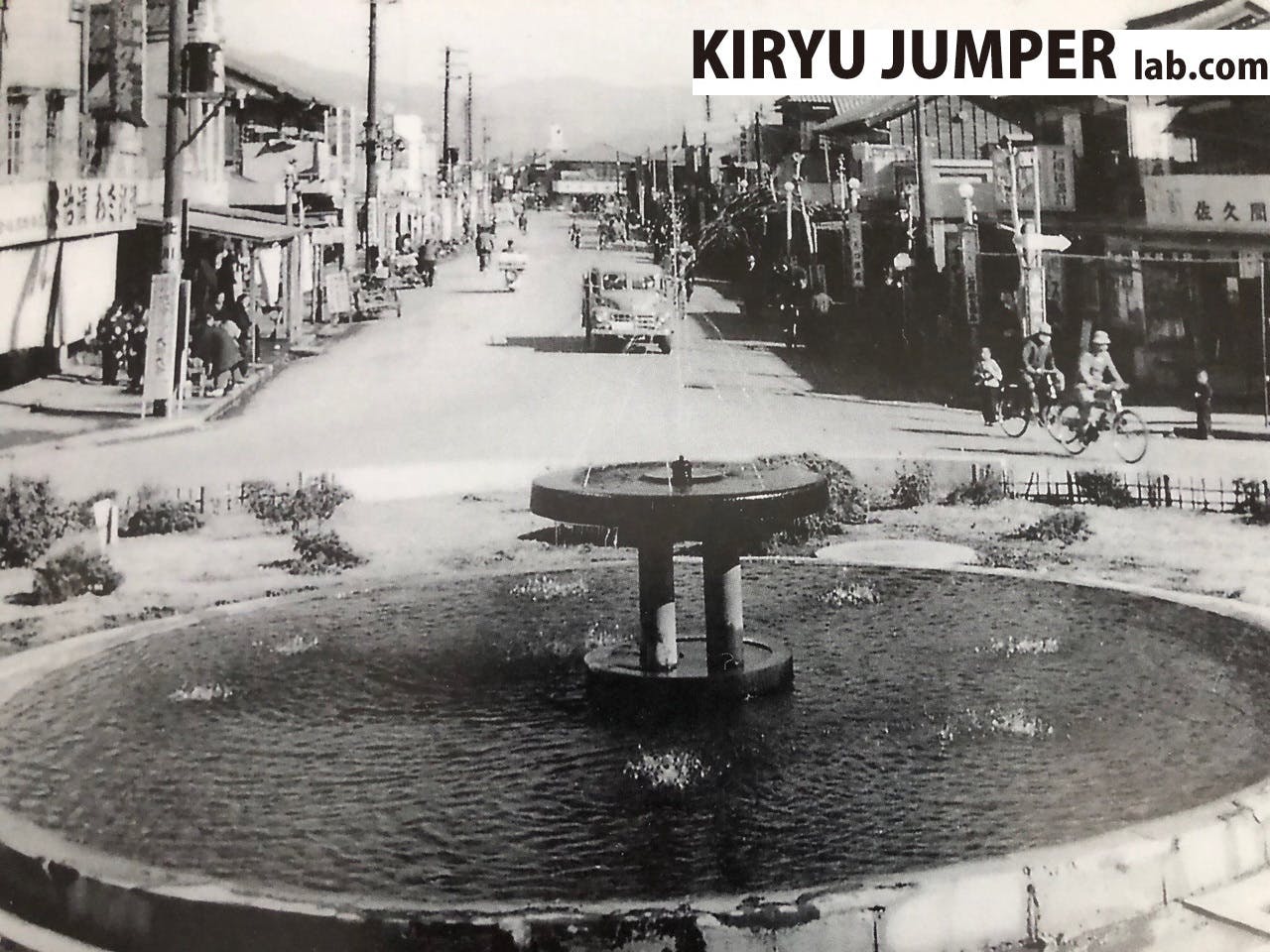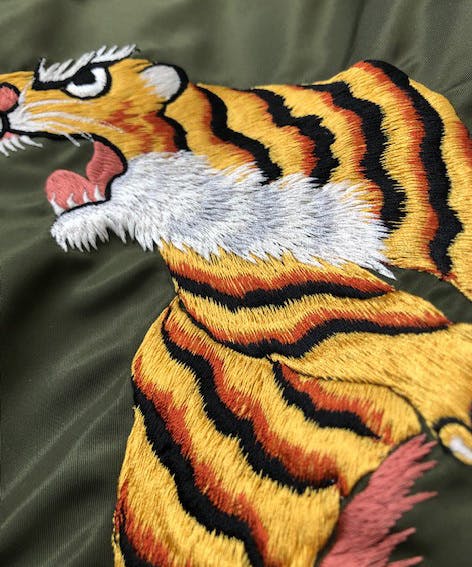 Hey everyone, it's been a while!
My name is Matsudaira and I am the director of the Kiryu Jumper Research Institute.
It took about a month, and the production of almost all the products was completed the other day.
After this, I applied the finishing process and used it to hang tags, letters, etc.
We expect to finally be able to deliver it to our patrons by the end of this week.
As for the jumper, it is a product from about 20 years ago.
All defects such as wrinkles and ribs have been repaired.
We have created a product that looks like new.
The real relationship with our customers begins when the clothes arrive at their hands.
The process of becoming familiar with your body and becoming a part of your lifestyle is
You can say it yourself. In other words, your clothes will become your personal brand.
We are only helping with a small part of that.
However, if you have any problems with your clothes, please feel free to contact us.
With our know-how, we will do our best to answer your questions.
Please enjoy the process of becoming your own lifestyle.
Please wait a little longer until the product arrives.
Kiryu Jumper Institute
Director Hiromasa Matsudaira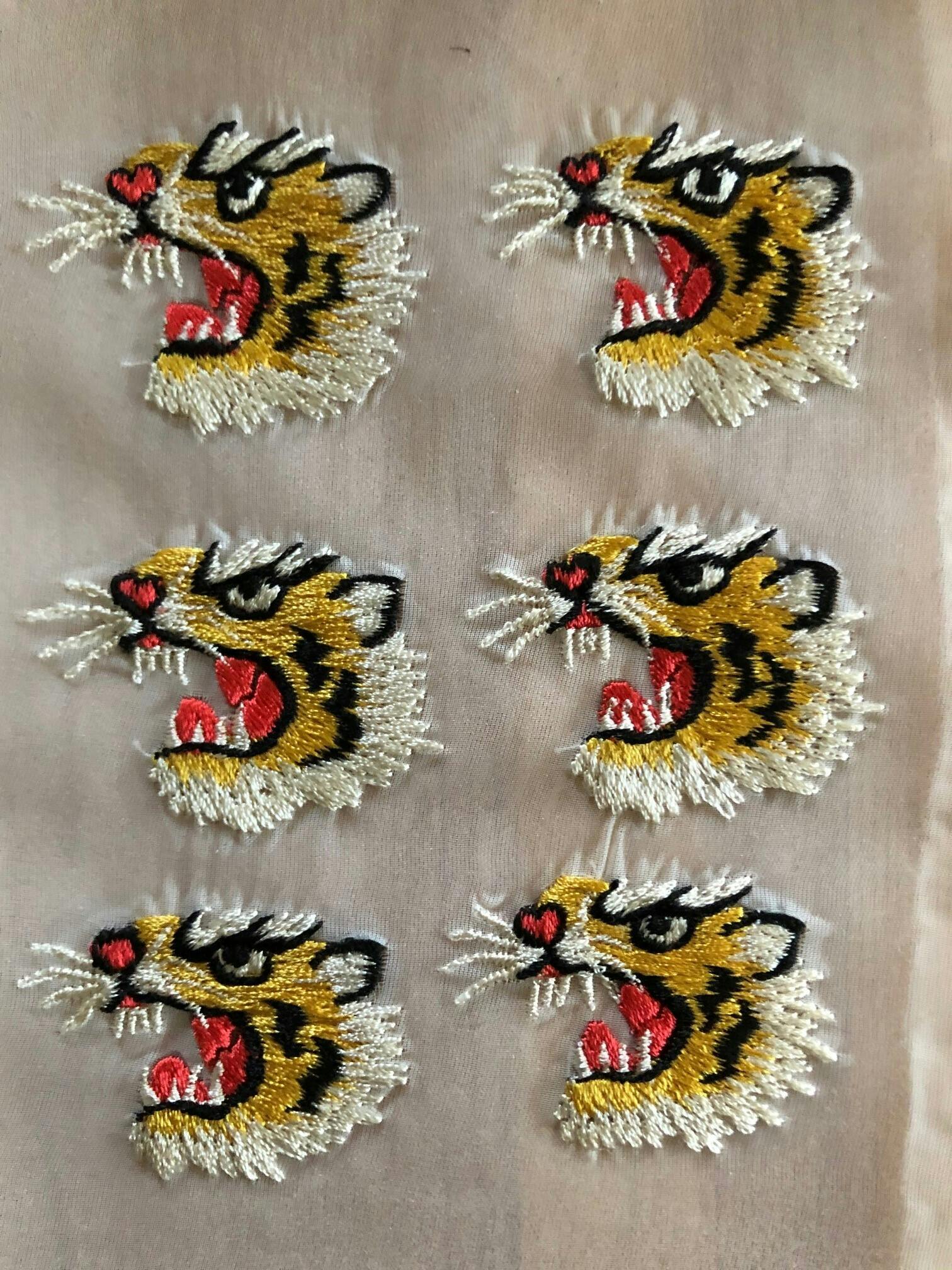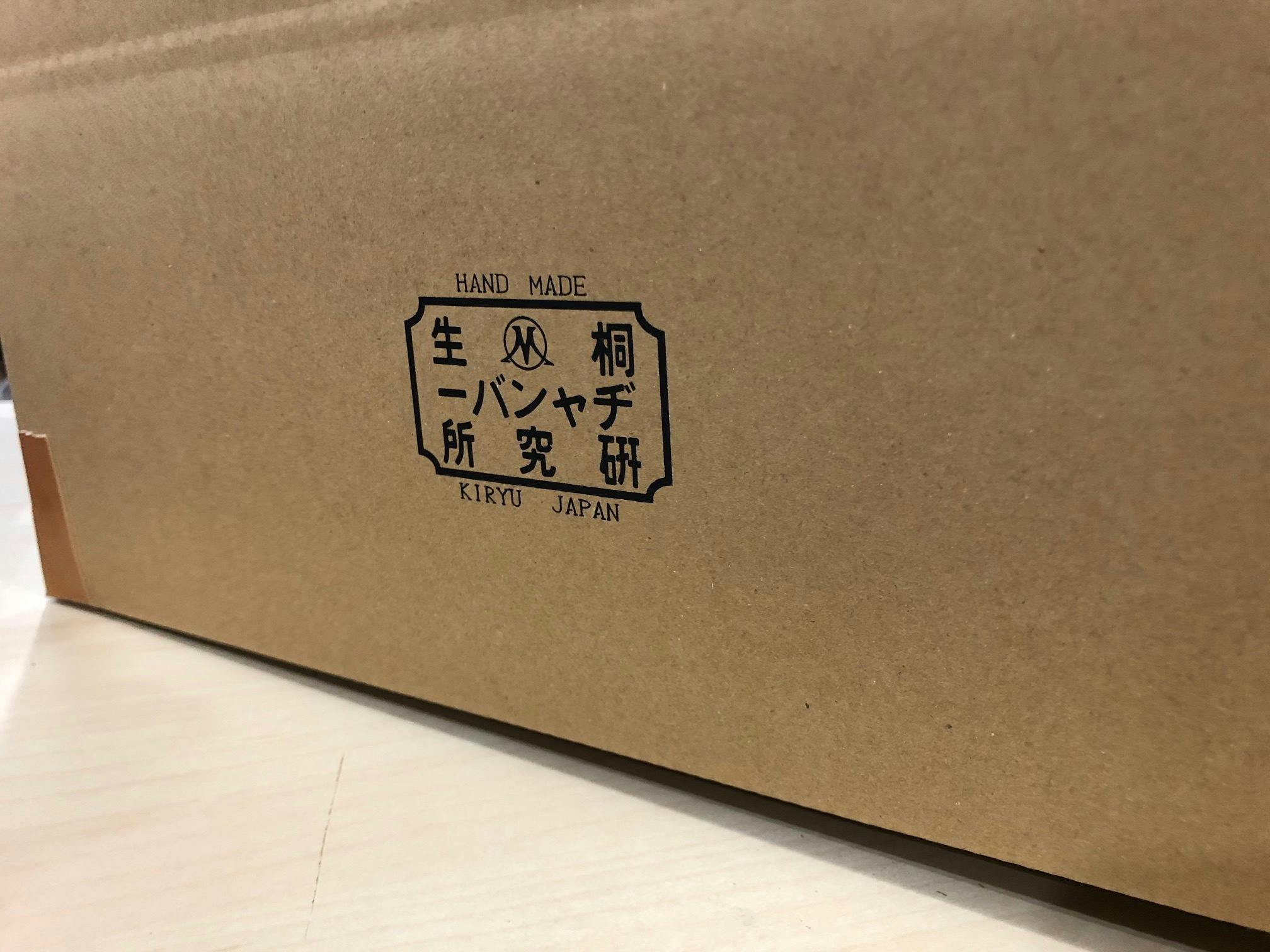 Hello!
This is Matsudaira from Kiryu Jumper Research Institute.
We apologize for the inconvenience, but
We have shipped all returned items today.
For inquiries regarding products, etc.
If you have any questions, please feel free to contact us.
I have been working in the apparel and textile industry for over 20 years.
During that time, I was blessed with many encounters.
At the same time, I started to have some questions.
For example, we can see the exhausted state of manufacturing sites.
This is about apparel companies that call themselves manufacturers but don't actually know how to make things.
The customs and common sense of the industry have become habitual,
No one will be happy if we do things without question.
I want to create something that makes everyone involved happy.
And this time, I was able to meet everyone I wouldn't have met if I hadn't done anything.
Just as farmers and fishermen send food directly from the farm,
We specialize in jumpers and deliver them directly from textile production areas to our customers.
Through my first crowdfunding project, I renewed my thoughts.
Because we want to do simple and honest business,
We will create a system based on the diagram of producer = seller.
I have only just started walking,
Please feel free to contact us in the future.
Thank you very much for your support!
↓ (Sticky paper used for patterns that was once used for horizontal embroidery on Skajan jackets)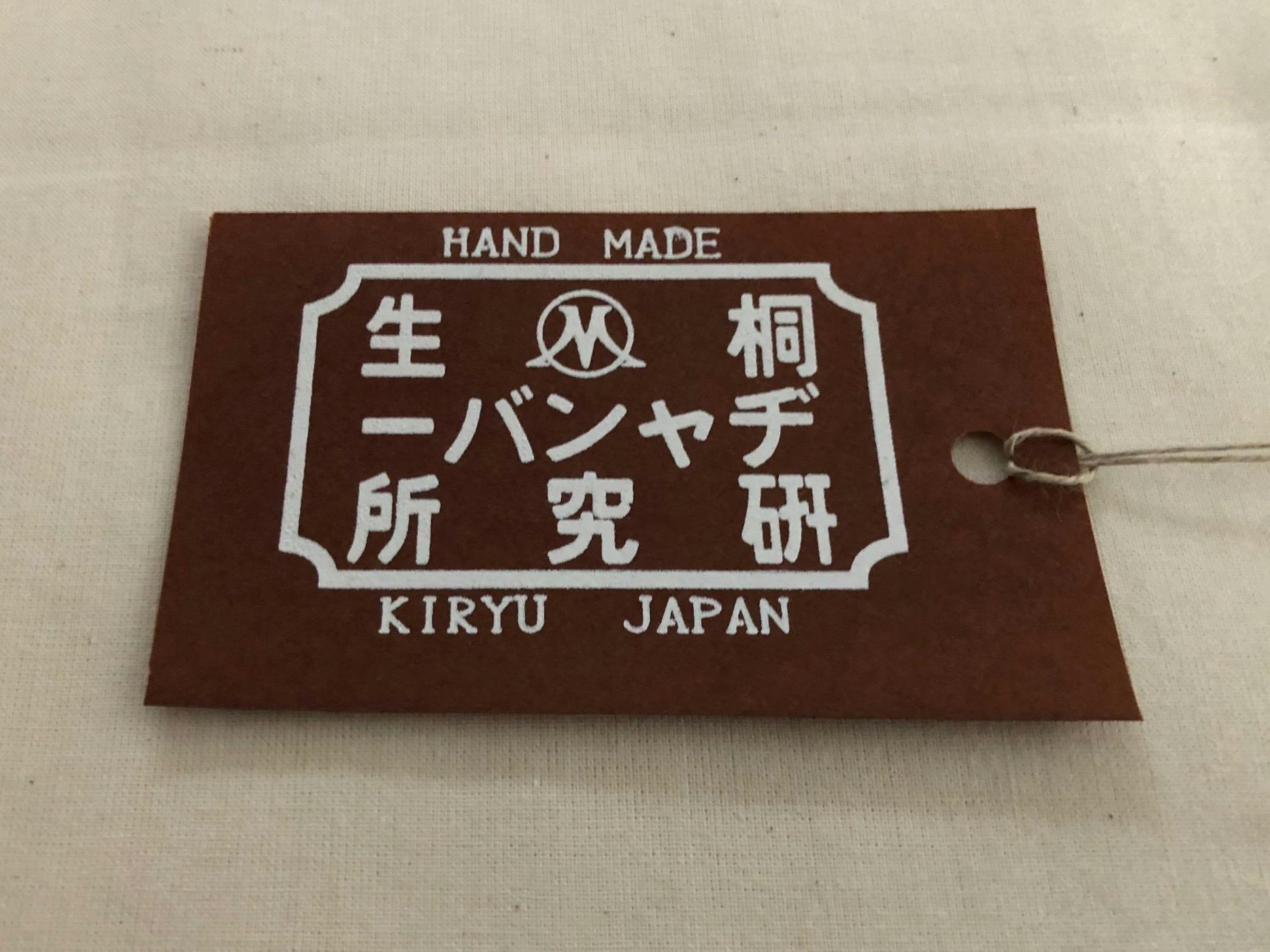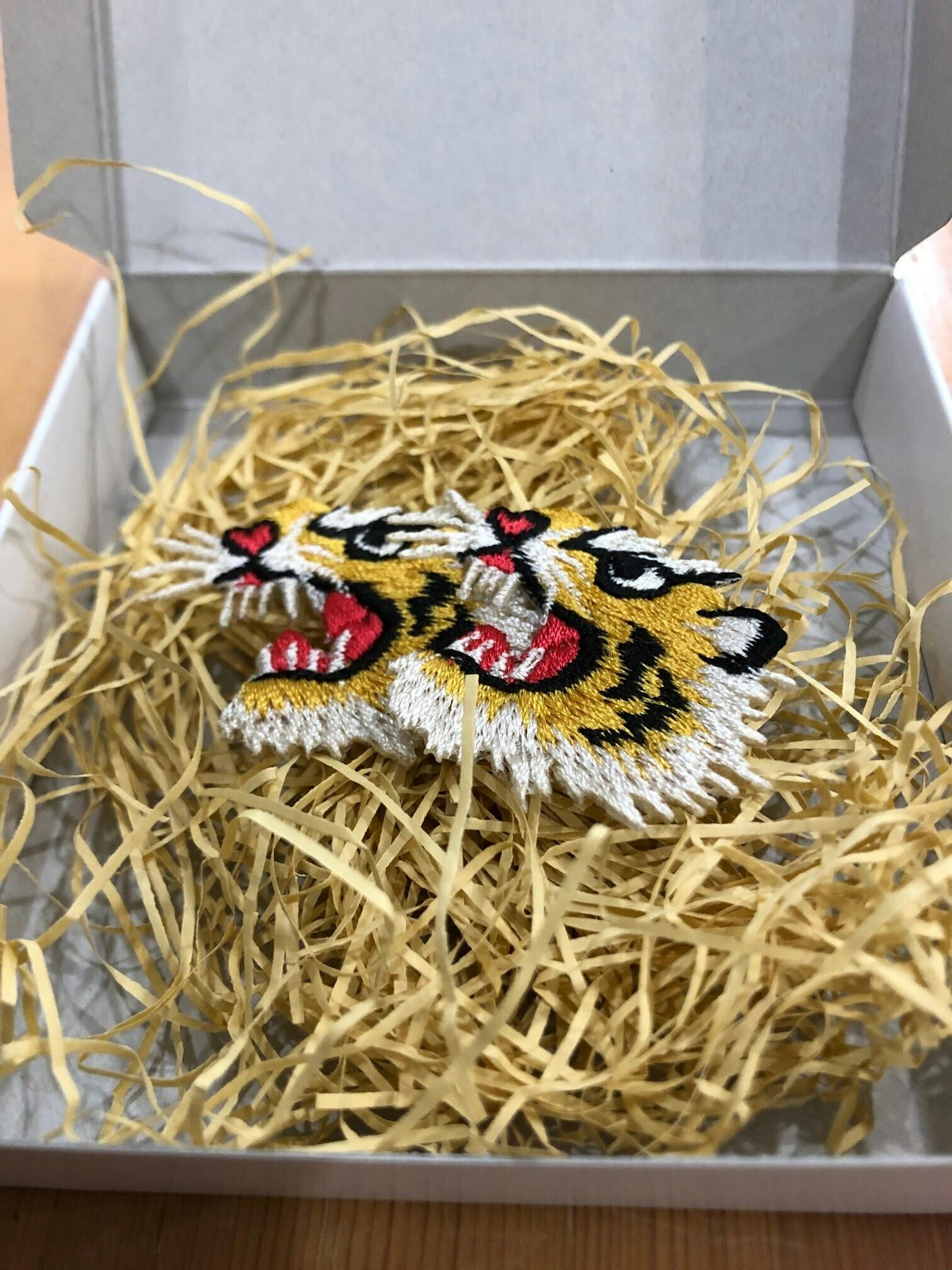 For Kiryu Jumper Institute
My first crowdfunding
I proposed this as a return.
About posting your name on the homepage.
It's a little late, but
I posted it today.
In the future, many things
We plan to utilize crowdfunding.
I hope to create this together with everyone.
We are also considering special benefits for "honorary researchers."
We look forward to working with you in the future!